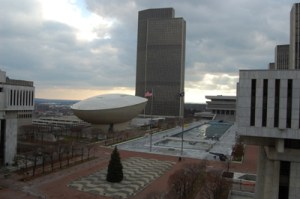 ALBANY—Brush up on your Dutch.
On Tuesday, the governor's office just confirmed, David Paterson and his wife Michelle will welcome Dutch Crown Prince Willem-Alexander and Princess Máxima at the Executive Mansion on Eagle Street. New York, formerly New Amsterdam, was first colonized and governed by the Dutch. The visit is the culmination of a 400-year anniversary celebration of Henry Hudson's initial landing.
A side note: the last time Dutch royalty met with a governor in Albany was in 1959, on the 350th Anniversary. The governor was Nelson Rockefeller, and he rode from the Capitol at the corner of State Street the few blocks south on Madison Avenue to the executive mansion with Queen Beatrix.
At that time, the neighborhood held several boarding houses and was, by many standards, kind of seedy. Rockefeller certainly thought so, and his embarrassment reportedly was the driving force behind the condemnation of the area to build the Empire State Plaza, which now bears his name.
The marble, Modernist, Brasilia-esque complex endures to this day and dominates Albany's skyline. It's unclear whether Paterson will be similarly moved to tear it down. Given the state of the fiscal crisis this just seems like idle speculation on my part (but hey, it's the Friday before Labor Day).
I kind of hope he does. Even though I park there, the plaza stinks from a planning perspective.
Neither Paterson nor the Dutch royals will be taking questions Tuesday. I guess we'll never know.