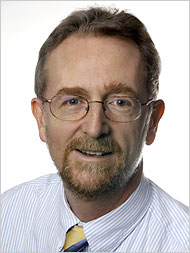 Times executive editor Bill Keller announced to his staff this afternoon that Phil Corbett will take over as standards editor after Craig Whitney retires at the end of the month. The selection is not a surprise. Mr. Corbett's most recent job as deputy on the news desk included updating the Style Book and sending out newsroom-wide post-mortems in what was known in a previous iteration as the "greenies."
Mr. Corbett will become the paper's third standards editor, a position that was created after Jayson Blair.
Here is the memo:

To the Staff

With Craig Whitney's retirement at the end of month, the newsroom is losing more than four decades of institutional knowledge. Craig joined The Times as an assistant to Scotty Reston in Washington in 1965, and owns one of the most amazing resumes at the newspaper: correspondent and bureau chief in Saigon, Moscow, Bonn, Paris and London; Foreign Editor; Washington bureau chief and two turns on the Masthead, including his current role as Standards Editor.

So who could possibly replace someone with Craig's experience and well-honed sense of New York Times values, as the guardian of Times ethics and standards? We think we have found the exact choice in Phil Corbett, who has served as Deputy News Editor since 2000 and shares Craig ' s unerring sense of judgment and fairness.

On October 1, Phil will join the Masthead as Associate Managing Editor for Standards, taking over the lion's share of Craig's portfolio. In that role, Phil will become the newsroom's voice for all standards and ethics questions relating to content and news coverage, both in the printed newspaper and on the web. This includes responsibility — along with Greg Brock — for dealing with corrections and editors ' notes, as well as questions from the Public Editor. He will also be the teller's window for vetting conflict of interest and other policy rules outlined in the handbook on Ethical Journalism.

As Standards Editor, Phil will report to Deputy Managing Editor Bill Schmidt, who will also acquire a piece of Craig s current job. Already the newsroom ' s liaison to several business side departments, Bill will be the point person dealing with the kinds of theological questions that can emerge when the company looks to extend The Times brand by leveraging our journalists and our journalism.

Phil joined The Times in 1990 from the The Providence Journal-Bulletin, working as a copy editor, assistant editor and deputy editor in Metro before joining the News Desk. As deputy on the News Desk, his responsibilities included updating the Style Book and publishing a regular news letter for copy editors, roles he inherited and digitized when Al Siegal retired in 2006. Phil will continue to oversee both.

Like Craig, Phil 's mandate is not only to preserve Times standards, but to shape recommendations and enforce reforms if and when he believes the accuracy or the impartiality of our journalism has been imperiled.

In announcing Phil's promotion, we will also be asking Greg Brock to take on a larger role as Phil's deputy, as Senior Editor for Standards. In addition to fielding reader inquiries about our journalism, he will continue, in consultation with Phil, to write and edit the daily correction report and, when necessary, editors ' notes, as well as to research questions or claims of errors or missteps in our reporting or writing.

Greg has served as a copy editor in Washington, an assistant on the Foreign desk and News editor in Washington before taking over in 2006 as Senior Editor in charge of the newsroom's dealing with the public.