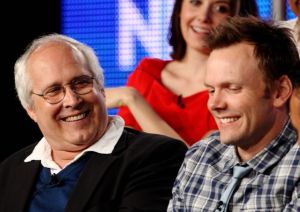 It might only be the middle of September, but we still feel confident in calling Joel McHale the breakout star of the fall television season. The snarky host of The Soup is so perfectly on-point in Community—premiering tonight at 9:30 on NBC, before moving to 8:30 when 30 Rock returns on October 15—so comfortable and engaging, that it seems impossible to envision a scenario wherein he doesn't become one of the biggest stars on television. That's high praise, sure, but we don't consider it hyperbolic; he's just that good. And thanks to Mr. McHale, Community manages to deliver the funniest comedy pilot since 30 Rock debuted.
From executive producers Joe and Anthony Russo (the two brothers cut their teeth on Arrested Development) and Dan Harmon (The Sarah Silverman Show), Community follows Mr. McHale's disgraced lawyer, Jeff Winger, as he attempts to gain a college diploma at the local community college. (When Jeff's former client–cum–professor asks about his supposed degree from Columbia, Mr. McHale replies: "And now I have to get one from America.") Whereas we've been conditioned to expect television comedies to rely on either the faux-documentary conceit or cutaways and digressions, Community is fairly straightforward with its humor. There is no wall breaking, no wacky situations; it's an old-fashioned comedy, but produced for current sensibilities—hence, the absence of a laugh track and one subtle-yet-funny 9/11 joke. The brothers Russo and Mr. Harmon, who wrote the pilot, keep the show hellzapoppin' with enough cultural references to make Josh Schwartz jealous. To wit: The pilot features a lengthy homage to The Breakfast Club and also shout-outs to Dirty Dancing, Meatballs and Stripes. It's like Chuck, but on steroids.
The Stripes reference is fitting, of course, because Mr. McHale is so clearly channeling Bill Murray that, at times, it becomes scary. Truth be told, Mr. McHale seems much nicer than everyone's favorite misanthrope, but that doesn't detract from his deadpan delivery and timing (it makes us wonder how long it will be before Mr. McHale gets cast in Ghostbusters 3). That Community pairs him with Chevy Chase—playing a supporting role much smaller than the advertising would have you believe—is a delicious irony when you consider how much Messrs. Chase and Murray once hated each other (and still might). They famously came to blows during the second season of Saturday Night Live, when Mr. Murray called Mr. Chase a "medium talent," one of the great burns of all time. Mr. Chase is funny enough in Community—as is the rest of the supporting cast, a mish-mash of Breakfast Club–like archetypes—but he is indeed the medium talent on Community. This is Joel McHale's world and everyone else is just trying to keep up. Thanks to him, Community is a winner. The first great new show of the fall has arrived.