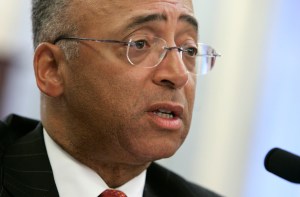 Perhaps it shouldn't be surprising, but Bill Thompson isn't showing much of a bump after that historically apathetic primary, in which a record-low 11 percent of registered voters turned out to vote, and less people voted for mayor than for other citywide offices.
Today, the first Quinnipiac polls came out, and Mr. Thompson still trails Mayor Michael Bloomberg by 16 points. What is somewhat surprising, is that Bloomberg and Thompson are even among Democrats, and Thompson only leads Bloomberg by 18 percent among black voters. Bloomberg, on the other hand, leads Thompson 62-26 among white voters (and also leads among Hispanic voters).
In case that's too many numbers, the pollster gives us a pleasant metaphor:
"[Thompson] has a 16-point mountain to climb and less than six weeks to do it," said Maurice Carroll, director of the Quinnipiac University Polling Institute. "And while Thompson is climbing that mountain, Bloomberg is rolling huge rocks, in the form of a multi-million-dollar media blitz, down on his head."
Of course, it could be worse.