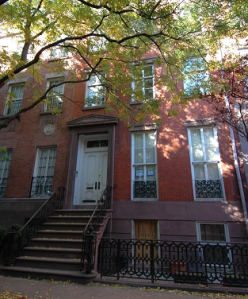 Gisele Bündchen is a very nice looking person with very long legs, but she has not had the best luck with Manhattan real estate. Consider her West 11th triplex, for which she once wanted $10.9 million: Her listing was cut pretty tremendously; then taken off the market; then put back on; and now seems to be off once again.
The trend continues. Her Barrow Street townhouse was listed Thursday by Raphael De Niro, the actor's son, for $13.95 million. "Description and floor plan coming soon," the listing said, though a floor plan was included along with two shots of the exterior and a garden. "I absolutely cannot and will not discuss that listing," Mr. De Niro told The Observer Thursday afternoon.
Within an hour after that call, and one to Ms. Bündchen's agent, the listing was taken offline.
According to city records, a limited liability corporation named Casa Vida spent $5.8 million on the house in 2005, which means the supermodel is hoping to make a nice profit on the sale. Ms. Bündchen is named on renovation permits.
Vida is the name of her dog. "Vida, Vida, Vida," she said in this May's Vanity Fair cover story. "'Vida' means life; she's the golden girl—that's why I call her Golden. She loves the bone. She deserves a little bone!" In the story, she hands Vida a lamb chop and says, "Vida, let's make a deal: I'll give you a bone every day—you live forever!"
Update: Both listings are back up! Barrow at $13.95 million, West 11th at $4.5 million.
mabelson@observer.com