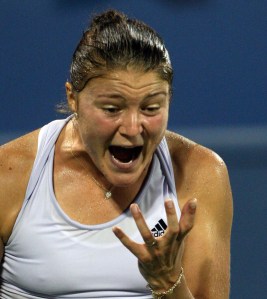 Dinara Safina was decidedly displeased with the USTA after having her match last night switched to Louis Armstrong Stadium from Ashe because the Isner-Roddick match ran late.
At a 2:00 am (!) press conference, she reconstructed the scene:
"They came to us at 9:10 and they just told us, We're switching you to Armstrong. And basically that's it. And I think it's very unfair to choose — I mean, best player in the world, to put on Armstrong. I don't think it's a fair decision they made. Their answer was, We prefer a five-set match than a three sets, woman. This is what their answer...That's it. They don't want to listen. You are on Armstrong. You ask them. You are move to Armstrong. You keep ask them why. You are playing on Armstrong at 10:00. And they knew already decision at 8:30 that we were going to play on Armstrong. So I ask them, Why didn't you come to us before so we don't have to sit and watch Roddick's match? It wouldn't change any decision, so at least tell us, Girls, you are playing at 10:00 on Armstrong so we don't have to jump on in front of TV and keep on — when it was the fourth set, when Roddick was match point down, that we have — we think we go on. They would come to us and say, Girls, okay, you play 10:00 on Armstrong…I mean, I — no, this is not excuse. It just, I feel that it is just very unfair how they did this, to both of us. I mean, just let us know. We are human beings. We are players. It's all about the players. People come to see us. They don't come to see referee." (Though sometimes we do!)
Asked if she thought that the USTA would have moved the match had it been a Williams sister or Sharapova playing, Safina answered, "I don't think so." For her part, Serena Williams stood up for the woman she's said doesn't deserve the number one ranking. Regarding the USTA's claim to Safina that they wanted the Ashe crowd to see a best-of-five match, Williams, talking today after a 6-2, 6-0 blowout of Daniela Hantuchova, said, "I think that was just a good thing to tell her to silence her at that moment. But I have to take her side on this. I think that she was first on. She should've played at 7:00. They should have moved the men's match. Simple as that, that's how it should be done. If you're supposed to play a match, you're supposed to play it, and then you move the next match." We've got a little insurrection on our hands!

Safina seemed rueful and confused about her performance: "I don't know. I go on the court and I really want to do one thing. And I step on the court and I do completely the opposite thing." She said that her weaknesses were entirely mental. But asked if she would be potentially interested in the services of a sports psychologist, she didn't seem willing to dilute any of her, um, intense coach Zeljko Krajan's influence: "No, no, not really. You know, I have a coach, and he's the only one person I'm listening to. I don't want that somebody else comes and tells me how I have to do what I have to do, because I have only one person in this job that I trust and I listen to. There is nobody else that I would listen trust. And I don't want somebody else in the middle comes between us."