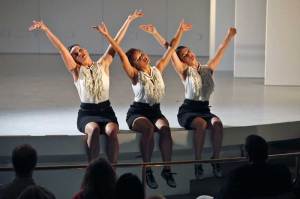 In 1954, Balanchine created a ballet, Opus 34, which he set to Schoenberg's Accompaniment-Music for a Motion Picture – played twice without interruption. It was actually two completely different ballets, with completely different casts and completely different effects. (The second scene ended with fierce klieg lights turned mercilessly on the audience.) This past week, as part of its Works & Process series, the Guggenheim came up with something similar: two new and different ballets to a single score, in this case Steve Reich's Double Sextet, which won last year's Pulitzer Prize for music. But this time the two ballets were by two different choreographers, and it's no insult to point out that the pair of them don't add up to one Balanchine.
Choreographers, historically, are born, not made—their talents drive them to it. But Peter Quanz is a young man whose determination to become one (beginning when he was 9!) outweighs his actual gifts. If sheer will could do the trick, Quanz would be at the top of the heap; indeed, despite his patent limitations, he's received important commissions—from the Kirov, from ABT, from a succession of established Canadian companies. I've yet to see work from him that suggests a strong individual voice, but he knows how to put things together pleasingly. And maybe that's enough today, given the paucity of successful ballet makers: Every company in the world is searching for talented new choreographers, and if you're efficient, agreeable and have intelligent ideas, you're on your way.
For his new piece, In Tandem, he's brought in six dancers from the Royal Winnipeg Ballet, from whose school he emerged (though not as a dancer). The performers are dressed in black and various shades of gray, and they looked uncomfortably tall under the low ceiling overhanging the stage. The dancers pass each other off from one to another, the girls sometimes—ingeniously—tipping off the front of the apron into the arms of boys waiting to catch them in the front aisle, then ricocheting back. There are quiet moments in the midst of the Reichian storm—as when a couple contemplate each other isolated on a small balcony to the right of the stage. The vocabulary is post-Balanchine, except where it's undiluted Balanchine. One can only wonder what the history of modern ballet would have been like without Agon, which is referred to again and again in In Tandem as in so many other ballets. Is it possible that, 50-odd years after it was created, Agon has been so deeply absorbed by today's choreographers that they reference it automatically, without even knowing that they're doing it?
Throughout, Quanz has responded to Reich's propulsive score carefully but with no kinetic excitement. And, unfortunately, the Winnipeg dancers, seen here in New York for the first time, are more correct than expressive. To put it directly, they're bland—just like the ballet they're performing. In Tandem just keeps on going, with no end in sight and to no purpose—not vulgar, not stupid, not anything.
LARRY KEIGWIN'S Sidewalk has in common with In Tandem the music, of course, the use of six dancers and the same palette for the costumes, but whereas the Quanz uses the Reich score cautiously, Keigwin takes fire from it. The title, Sidewalk, places the dance on a city street—it's all urban push and clash—but it also points to the urgent sideways walk that gets things started, the six dancers scuttling and jostling again and again across the stage. This isn't the self-conscious postmodern walking that punctuates so many minimalist works; it's a projection of a specific contemporary world and attitude. These people are heading somewhere fast, even if they don't know where it is they're heading. In fact, when they're not walking, they're running—across the stage, yes, but also up one aisle, around the back, and down the other, or up the stairs leading to the balcony and out through a brightly lit exit. They collapse on each other, brace each other, flail at each other—the charge comes from movement and gesture, not from projected emotion: They're deliberately more or less affectless. And yet, although the strength and the fun of the piece come from group energy, the dancers are strikingly individual (unlike the Winnipegs, who seem cloned from each other). The whole piece is enhanced by the Guggenheim's jewel of a theater—intimate, comfortable and a perfect venue for site-specific dance.
The highly singular Larry Keigwin has been flexing his inventiveness and daring for some time now; between commissions for prominent dance groups (the Martha Graham Dance Company, the Juilliard Dance Ensemble), he bounces from pop groups to the Rockettes to Off-Broadway musicals. And, as the program notes inform us, "In his spare time, Larry has created Keigwin Kabaret, a fusion of modern dance, vaudeville, and burlesque acts presented by the Public Theater at Joe's Pub and by Symphony Space."
Spare time? What spare time?