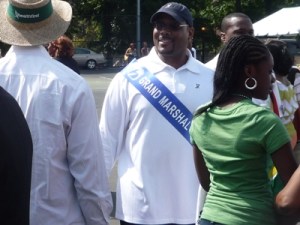 State Senator John Sampson, the Democratic conference leader, said a Buffalo-area assemblyman "overstepped his bounds" when he called State Senator Pedro Espada Jr. a "thug" and said he should resign.
"I think Mark Schroeder overstepped his bounds. Irrespective of what you think, Senator Espada is a colleague and I do not support anybody calling any one of my members a thug," Sampson told me in Brooklyn. "Because we are not thugs."
(Espada was given the title of majority leader after defecting to Republicans, and then re-defecting to the Democrats. Early on during the month-long stalemate this prompted, a Democratic spokesman referred to Espada as a "thief" and another defector, Senator Hiram Monserrate, as a "thug.")
When I asked Sampson if there was any merit to calls for Espada's resignation, given Espada's wont to run afoul of ethical guidelines on a regular basis, he said he was "responsible to his constituents. He's not responsible to Mark Schroeder."
Sampson also said he concurred with Assembly Speaker Sheldon Silver that member legislators should not be called to Albany until there is an agreement among legislative leaders on how to bridge a mid-year deficit, but he was optimistic that he could deliver the 32 members of his conference to support a bill.
"Our conference is member-driven, and they have entrusted me with the leadership position, and I think at the end of the day all our members will be on the same page," Sampson said.