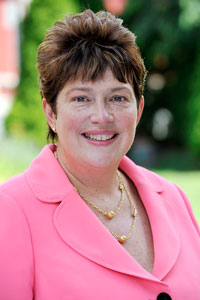 ALBANY—As a holding company run by her brother lost millions, Assemblywoman Dede Scozzafava traded her stock for a debt obligation that will give her preference if the troubled corporation were to file for bankruptcy.
According to the latest filing with the Securities and Exchange Commission, members of the Scozzafava family on May 20 exchanged preferred stock in Seaway Valley Capital Corp. for a convertible debenture–or a debt holding that could be converted to common stock–that will pay 12 percent in interest. The chairman, CEO and chief financial officer of SVCC. is Thomas Scozzafava, the assemblywoman's brother.
Assemblywoman Scozzafava has been designated by Republicans as their candidate to replace John McHugh in Congress. She has previously been attacked for her association with the business, which she has consistently downplayed. The move by the Scozzafava family, and by the candidate, to insulate themselves from risks to which regular shareholders continue to be exposed will only make it easier for opponents to paint her as a corporate insider.
In an interview earlier this week, Scozzafava told me she is a "passive investor" in the company, and made the investment to "create jobs in the North Country" as well as fill a retail void. The company operates several retail stores throughout the district. She told me and another reporter then that she had a debt obligation in the company, not stock, but stated she held preferred stock on a recently filed disclosure form.
According to Kathleen Farrell, professor of finance at University of Nebraska in Lincoln, the swap "could be interpreted as perfecting these individuals' position in case there's a bankruptcy."
"You're better off in a debt instrument if the company isn't doing well, because you're better off getting something in the event of a bankruptcy," Farrell said. In court-supervised liquidations, creditors are paid in order of seniority, with common stockholders–members of the public who own SVCC shares, which trade for fractions of a cent–are paid last. Often they receive nothing for their holdings after a bankruptcy.
Scozzafava's holding is worth between $1 and $5 million.
The latest quarterly filing shows that SVCC is not doing well. It lost $6.8 million between March 31 and June 31, and now has a negative equity–that is the amount that its debts exceed it assets–of $18.5 million.
"Its ability to continue as a going concern is dependent upon achieving sales growth, reduction of operation expenses and ability of the Company to obtain the necessary financing to meet its obligations and pay its liabilities arising from normal business operations when they come due, and upon profitable operations," the filing states. "The outcome of these matters cannot be predicted with any certainty at this time and raise substantial doubt that the Company will be able to continue as a going concern."
Sales were down, not surprisingly, due to a "generally weak economy." But the company continued to invest money, the filing indicates, and more capital was poured into it by Seaway Capital Partners, a private investment partnership of which Scozzafava is an officer.
This quarterly update was scheduled to be filed weeks ago, but the delay happened "because there was a delay in completing the adjustments necessary to close its books for the quarter," according to another form.
In response to questions about why Scozzafava exchanged her stock, campaign spokesman Matt Burns issued this statement:
"Dede has been detailed and transparent in disclosing her personal finances.  She has disclosed well beyond what is required by the Federal Elections Commission — and well beyond what has been asked or demanded of any other candidate in this race.  In fact, Bill Owens and Doug Hoffman have revealed zero about their own financial histories.  Instead, they continue to hide behind the dirty work of Washington, D.C.-based political operatives who are running a smear campaign against Dede.  The bottom line is that Dede has most of her life savings invested in the North Country — as she has outlined in her filing.  The people of the 23rd Congressional District will reject the negative, nasty campaigns being run by her opponents and their supporters."