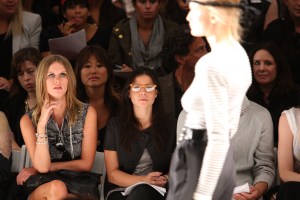 In the middle of the Charlotte Ronson runway show last Friday, a model rounded the corner of the runway to a roar of applause. No, it was not Gisele Bundchen; it was Annabelle Dexter-Jones, the half-sister of the designer.
The modest Ms. Dexter-Jones covered her face with her hands as she burst into laughter from the attention and headed down the long, white, floor-level runway.
That wasn't the only thing people were screaming about. Before the show began, there was an enormous hysteria over seating. (Something to do with the Ronsons' PR reps not assigning everyone a specific seat and every person thinking they were more important than everyone else in the front row.)
Students and friends of the designer overfilled the tent at Bryant Park, and the few socialites and celebrities that did arrive mere moments before the show began were not happy that there wasn't an entire row for each of them.

However, heiress Nicky Hilton arrived promptly. She was wearing a Charlotte Ronson denim sleeveless mini dress, but she was unable to identify what season it was from. "We both grew up in the city," Ms. Hilton said with a blank stare, when asked how she knew Ms Ronson.
The much-anticipated arrival of actress Lindsay Lohan never happened. Perhaps this means that her turbulent relationship with the designer's sister, who was DJ-ing the show, is off-again. But like the person sitting behind the Transom said, who can keep track anymore?