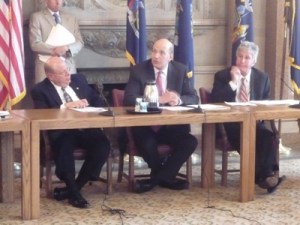 ALBANY—Welcome to Albany, Jay.
Members of the State Senate held three hearings on the nomination of Jay Walder to lead the M.T.A.—this came on top of two hearings held downstate—and will consider his nomination on the floor. It looks like it will pass. But he still got the full treatment from some senators.
"We will be opening up the books of the M.T.A. with your support or without," said Senator Carl Kruger, a Brooklyn Democrat who is chairman of the finance committee, during its hearing. He said the agency has been "less than forthright" in the past.
Senator Carl Marcellino, a Long Island Republican, said that "the only organization that has more sets of books than the M.T.A. is the Mafia, if it exists."
Marcellino vowed to vote against Walder's nomination because he will not repeal a payroll tax approved as part of a bailout package for the authority.
State Senator Ruben Diaz Sr., a Bronx Democrat, asked Walder whether he would support congestion pricing (as he did when he was the transit chief in London) and then, when he said he wouldn't, tried unsuccessfully to bait him into attacking Michael Bloomberg. Walder looked perplexed; others in the hearing room smiled and suppressed snickers. Eventually he said "the decision was taken not to move forward on congestion pricing; I accept that decision." Diaz eventually stopped.
During an opening statement, Walder promised to work with senators and noted there "needs to be a new basis in partnership."
He was confirmed by the Finance Committee 25-3, with three senators voting yes "without recommendation." Earlier, the Transportation Committee moved his nomination by a vote of 11-1, with five senators voting no recommendation. While some Republicans—Marecellino, and Senator Andrew Lanza—have voted no, many others voted yes and are expected to do so on the floor. (Diaz voted no in committee, but wouldn't say how he would vote on the floor until he figured out where things stood in conference.)
Senator Martin Malave Dilan, the chairman of the transportation committee, said he was "concerned" by the votes without recommendation but "confident" that Walder would be approved.