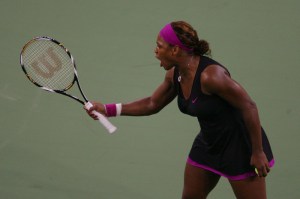 Down 5-6 and serving at 15-30, down a set, Serena Williams was two points away from losing to Kim Clijsters. She hit a fault out wide. Then, unbelievably (but accurately), she was called for a foot fault, to give Clijsters double match point.
After she was called for the foot fault, Serena turned toward the lineswoman and began yelling and shaking her racket at her.
I was sitting courtside and I heard Serena Williams unleash some profanities and tell the lineswoman that if she called a foot fault again, "I'll stuff this racket down your throat."
(Others heard her say other profane things as well).
When asked in a press conference afterward what she said, Serena responded, "I don't remember anymore, to be honest. I was in the moment. And, you know, everyone's fighting for every point. It was a really crucial point, 15-30, actually."
After the outburst, the lineswoman walked over to the chair umpire. Tournament referee Brian Earley came out and consulted with the two as Serena stood nearby. The crowd then saw Serena walk over to where Clijsters still stood on the opposite baseline, shake her hand, and return to her chair to get her equipment together. The chair umpire called the match for Clijsters, and Serena quickly exited the stadium, waving to the crowd, while Clijsters sat in her chair.
A few minutes later, Serena did not go so far as to apologize to the lineswoman or admit regret about the incident, but she seemed resigned to the decision: "I'm not the beggar, like, 'Please, please, let me have another chance,' because it was the rules, and I play by the rules. If I get hit, I say I got hit, you know. I play by the rules. That's what it was."