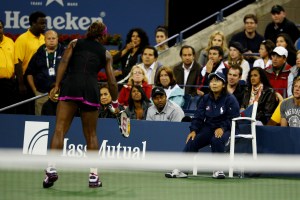 It was one of the strangest endings we've ever seen in a sporting event.

The setting was odd enough. After two days of non-stop rain, we suddenly had one of the most intriguing semifinals in recent memory being played before a stadium that was roughly a quarter full.

Then at 15-30 in a potentially match-deciding game, Serena was called for a foot fault. This was strange, too. Who makes that call at that critical point in a match? Serena was confused too, and then that's when all hell broke loose.
Zack was sitting courtside last night and heard Serena tell the lineswoman, "I'll stuff this racket down your throat." When watching replays on television last night, it was clear she had lots of other things to say too. "I'm going to shove this ball in your fucking throat" was one of them. SportsCenter had to censor a good part of her tirade, which was caught, barely audibly, off a CBS parabolic microphone.

After the match, the press corps was whipped into a frenzy like we've never seen here before. For three years, after every big match, I've taken a stroll to the women's and men's locker rooms to see a moment that the cameras never see–what those tennis players look like the second they come off stage. I'm generally the only reporter who takes that trip. Last night, I was joined by a CBS camera crew that filmed her entrance into the locker room. A writer for Sports Illustrated came frantically running down the hallway. About a dozen others then set up camp outside the locker room, after she walked in.

Sadly, no one is ever going to remember what happened in this otherwise riveting tennis match. Serena's meltdown will go down as one of those remarkable, transcendent, repeatedly recalled sports moments. What the tuck rule was to the Patriots-Raiders 2002 AFC playoff game or what Jeffrey Maier was to Game 1 of the 1996 American League Championship is what Serena's meltdown will be to the 2009 U.S. Open women's semifinal.
The thing that separates this from those other moments was there was nothing in dispute here. Serena dug her own grave. This was total self-destruction. And she had no regrets.

"I haven't really thought about it to have any regrets," she said in an intense press conference afterwards, which her agent tried, repeatedly, to cut off early. "I try not to live my life saying, I wish, I wish."

This night won't appear in the first line of her obituary, but surely when you get to that graf about Serena's "fiery demeanor on the court," it will be the first thing mentioned.

Serena's bad temper has never cost her a match quite like this, but controversy seems to follow her wherever she goes. There was the moment in the 2003 French Open semifinal when she was booed off the court. There was the moment in the 2004 quarterfinals when she was the victim of an egregiously bad call. In 2007, in the quarterfinals against Justine Henin, Serena called her a bitch. At the French Open this year, after Maria Jose Martinez Sanchez tried to claim a ball had not hit her (which would have given Serena the point), Serena was caught on mic saying to Sanchez, "I'm going to get you in the locker room for that. You don't know me."

But this one takes the cake.

It's been a remarkably bizarre U.S. Open. So many of the seeded women's players were knocked out during the first week. The weather was eerily perfect for the first week. There was Melanie Oudin. Kim Clijsters amazingly, unbelievably might win the U.S. Open. Roger Federer might win his sixth. Rain has destroyed the final weekend schedule.

And yet, through all this, now we've got the moment that we'll remember most when this Open ends.

When we argued earlier this week that women's tennis has regained its form, we forgot to mention we also needed out-of-this-world drama that defined the women's tour a decade ago when it was on top.

It looks like we've got that back now as well.