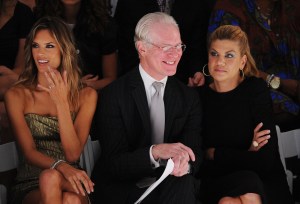 Misshapes DJ Leigh Lezark and Victoria's Secret model Alessandra Ambrosio probably don't run into this problem often, but at Saturday's Christian Siriano show they wore the same thing: burgundy platform pumps from the designer's Payless collection.
In fact, many of the show's front-row guests sported Siriano footwear. Actress Tori Spelling was overheard insisting to a second-row companion that her seven-inch heels were comfortable.
But the afternoon's biggest star was Project Runway's Tim Gunn, who wore no platform heels. Mr. Gunn was totally mobbed—it took a lot of work for him to make it to his seat, and he received a moment of peace only when a fresh wave of press descended upon actress Mena Suvari. The Suvari-seeking photographers crushed Mr. Gunn and the Transom against the front row and he gave us an apologetic pat on our arm.
How had his Fashion Week been so far?
"Like this!" he said with weary good humor.
Actress Kristen Johnson was pleading to take a seat—"I gotta sit down. I gotta regroup"—before Mr. Siriano's enthusiastic mother grabbed her. Ms. Johnson regrouped swiftly and posed for a photo.
Meanwhile, the shoes that Mr. Siriano sent down the runway, while exciting, may not have been as comfortable as Ms. Spelling claimed. The models looked a little wobbly, and one hopped out of her heels while taking her final lap.