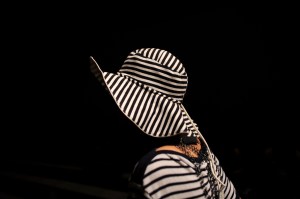 Thakoon's most famous client, First Lady Michelle Obama, didn't shut down any avenues to make an appearance at his Monday afternoon show at Eyebeam. But the packed house made it look as if she had.
Many in the standing-room-only crowd nodded appreciatively at the Thai-born, Omaha-raised designer's draped fabrics and eye-popping prints, worn by models sporting samurai-inspired hair (more Lucy Liu in Kill Bill than Tom Cruise in The Last Samurai, thankfully.)
Among the seated, Bee Shaffer stood in for her mother, Vogue editor Anna Wintour, who was undoubtedly off to Queens to ogle Roger Federer in the men's title match at the U.S. Open (Mr. Federer would go on to lose to Juan Martin del Potro in five sets). Along with Ms. Shaffer, Vogue was well represented by society mavens Lauren Dupont and Amanda Brooks, the latter of which was spotted chatting up Wendi Murdoch.
Model-socialite Elettra Rossellini Wiedemann was in attendance, along with late arrival Rachel Zoë, the stylist, who paused to exchange kisses with a few people in the front row. But it was Ciara, who wore a stunning purple dress accessorized by a bodyguard, who made the runway her own.
After giving Thakoon a rousing ovation, the audience fled what was quickly becoming an intolerably muggy space. Among the throng was chef Rocco DiSpirito, who was checking out his first Fashion Week event of the year. He'd met Thakoon's brother, a photographer, earlier that day at a shoot for a new book due this spring, and sounded glad he'd decided to tag along."I loved it. I liked the color and his willingness to take chances. And the fabrics," Mr. DiSpirito said. "I wish we'd had some of those at the shoot this morning."
After the crowd had dispersed, blinking into the late afternoon sunshine, venerable Times man-on-the-street photographer Bill Cunningham captured a few straggling fashionistas (and their shoes) with his famously throwback gear.