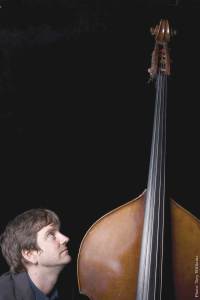 The jazz bassist Joe Martin wishes he could forget some of the gigs he has played. There was the boozy party on Long Island where the wealthy host ended up in a drunken screaming match with his young companion. There were the nights Mr. Martin spent backing up an electric violinist in New Jersey, who played at ear-splitting volumes and didn't bother to keep his instrument in tune.
Then there was the time Mr. Martin was called to see if he'd perform Christmas carols on Good Morning America with a Sing Along with Mitch–style male chorus. He would also have to wear garish red shirt.
"I was like, 'Wow, this sounds like it could be potentially embarrassing,'" Mr. Martin said.
Miles Davis would have responded with one of his famous vulgarity-laced tirades. Mr. Martin just asked the caller to double his fee. National embarrassment has its compensations, it turns out.
Mr. Martin, a 38-year-old Iowa native, tells these tales without a trace of the self-lacerating wit that you often hear from jazz musicians whose careers haven't lived up to their high-school dreams. He isn't ashamed of the fact that not all of his gigs have been at the Village Vanguard.
"My primary occupation as a jazz musician, if you want to call it that, is as a sideman," Mr. Martin said in recent interview at his Fort Greene apartment. "That's how I earn most of my living, and I keep pretty busy doing that."
Sometimes that has meant enduring sour notes and soused patrons. But it has also led to supporting roles with stars like pianist Brad Mehldau, saxophonist Chris Potter and guitarist Kurt Rosenwinkel, whose faces have been featured on the covers of jazz magazines here and abroad. In other words, there's still enough magic to go around.
And almost enough of Mr. Martin. It seems someone is always calling him and asking him to show up with his rather large instrument, which he'd parked temporarily on the landing outside his second-floor apartment after returning at 1 a.m. from a gig at the Bar Next Door in Greenwich Village to back up saxophonist Joel Frahm; he'd only have to lug it out again to return there the same night to play with guitarist Jonathan Kreisberg. Now he was taking an assignment in between.
"One of the reasons I became a bass player was, you are kind of behind the scenes in a way," he said. "I think that just kind of fits my personality to a certain extent. I'm more comfortable in that role than being out front. I'm a pretty reserved person."
We should check back in with Mr. Martin soon. Earlier this month, Anzic Records released Not by Chance, Mr. Martin's second album as a leader. It features two of his periodic employers—Mr. Mehldau and Mr. Potter—along with the phenomenal young drummer Marcus Gilmore. The bassist will be celebrating its release on Oct. 7 and 8 at the Jazz Standard. (The saxophonist Mark Turner will substitute for Mr. Potter at the Jazz Standard.)
Not by Chance has received significant praise and deservedly so. It is, quite simply, one of the year's best records. One of the pleasures it offers is the opportunity to hear Mr. Martin and his high-profile session mates swap roles. Mr. Mehldau and Mr. Potter play as if they are on holiday from their usual leadership duties, turning in performances that are more carefree and spontaneous than their own recent records.