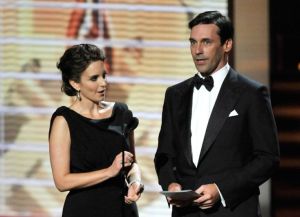 It's been months since we've had a glitzy Hollywood-loves-itself-so-much awards show, and yet…it's sort of hard to get worked up about the Emmys, isn't it? We appreciated the hard work host Neil Patrick Harris was putting in up there – apparently it's a law now that every awards show must start with a clever singing and dancing number — but there was a moment…somewhere around 9:09 (and a note to future show producers: this whole splitting the night up into genre categories didn't seem to work so well. And while we're at it, who decided it was a good idea to do those massive clip packages for each of the categories – Comedy, Reality, Mini-Series, Drama – but yet when it came time to announcing nominees, none of their work was shown?) even he seemed slightly bored. But! The idea of announcing presenters with the random IMDB-archive credits from before there they were famous ("You knew him as Lenny in Superman 4: Quest for Peace, and you know her as the voice of Fairy Princess Willow in Scooby-Doo and The Goblin King") and John Hodgman's irreverent patter on the microphone as winners walked to the stage ("This is The Daily Show's 900th Emmy win") was consistently amusing, and there were a few moments within the three hours (plus five minutes extra – sorry DVR users!) that made it all (almost) worth it.
The Prank Pact For Supporting Comedy Actresses!
Apparently it was Amy Poheler that came up with the idea that all the nominees wear wacky eyewear. Glittery 2009 glasses, an eye path, a monocle…it was almost as good as Sarah Silverman's faux moustache that showed up later. But what happened Vanessa Williams? Kristin Chenoweth, Jane Krakowski, Elizabeth Perkins, Amy Poehler and Kristen Wiig all got into the spirit of things, so why not you? Extra points for Ms. Chenoweth, who, upon winning for her part on the now-cancelled Pushing Daisies, said, "I'm unemployed now so I'd like to be on Mad Men, and I also like The Office and 24." Shilling for a new job on the Emmy stage? So 2009.
Did Rob Lowe Say Too Much?
Did anyone else find it a bit weird when Rob Lowe (aging backwards) managed to work into his pre-announcement-of-nominees patter the following? "For those of you who may be wondering why someone from the West Wing or Brothers and Sisters would be presenting the Emmy for lead actor in a comedy series, clearly you have forgotten my work in a little show I starred in called Dr. Vegas. Oh yeah. I chose that over Grey's Anatomy. So if any of you are looking for some career advice…I'm your guy." Whoa, how is Patrick Dempsey feeling right about now? Hmmm, according to IMDB, Dr. Vegas ("A young, unconventional doctor lives and works in an old-school, Palms-like hotel/casino in Las Vegas") began airing in the fall of 2004, while Grey's began in March of 2005. So this is entirerly possible! However, isn't there some sort of unwritten rule somewhere that one is never supposed to publicly talk about a role they passed on out of respect to the actor who actually took the part? Now, everyone close your eyes and imagine a world where Rob Lowe is Dr. McDreamy.
Everybody Dance Now!
Not much to say about it, really, except that it happened. And there were some serious fringe pants involved, and the dance routine looked an awful like something out of Rhythm Nation. And, um, we kinda liked it?
Best Acceptance Speech of the Night
Without a doubt, we have to give this one to the great Ken Howard, who took home the win for Best Supporting Actor in a mini-series or movie. First of all, someone should get this man – with his impossibly wide shoulders and dignified jowls – on Mad Men as soon as possible. (Maybe he's already living in Mad Men? Just a thought). But then, he thanked his organ donor from nine years ago, and as if that wasn't enough, he completely won us over with the following: "To my loving and loyal wife of eighteen years, this is her birthday. September 20th, Linda was born well into the later half of the previous century. Happy birthday, sunshine, this one's for you." All together now, awwww.
The Pre-Taped Packages: Discrepencies
We love how some people took this assignment seriously, and clearly all those comedy dudes (who you know all know each other and have worked with each other at some point along the way) have a good competitive who-can-put-together-the-wackiest-package-announcing-the-names-no-one-knows contest: The Colbert gang posed in front of the Letterman studio, each of the Daily Show names were assigned a junky car while overlord Jon Stewart had a monstery fire-breathing machine, Conan O'Brien hit ignore on Facebook for each of his staff, Billy Crystal sang a little song and made a Leno dig for David Letterman, and–hey!–that maniac Brian Williams announced each SNL nominee (including Lorne Michaels) as if he or she were on the most wanted list ("or as they're known collectively, nerds").
Ricky Gervais Steals the Show. Again.
Mr. Gervais had a lot to live up to after last year's Emmys. And yet, he did it again! He started by making fun of how unattractive television people are ("Steve Carrell is considered handsome! Think of that, amazing! Rain Wilson…no, we've got to be honest, he is weird even in this company.") before going on and on about collecting fat paychecks from syndication on the American The Office. God, can we please let this man host the Oscars already? Don't be afraid, Hollywood!
Let's see, final thoughts!
We know that Breaking Bad is supposed to be, like, the most totally amazing show ever and stuff but would it kill you voting people to let us get some John Hamm or Hugh Laurie up on stage? Did Michael Emerson from Lost (who is just as weird as he seems on TV) plan to close out his speech in Hawaiian? And did we dream that Sarah McLachlan sang the 1995 song "I Will Remember You" live for the death montage? Good gravy! Sigh. Now we only have to wait till January 17th for the Golden Globes.