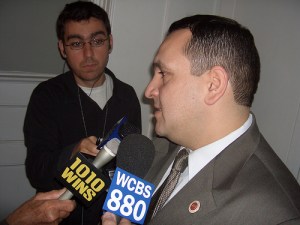 The trial of the troubled State Senator Hiram Monserrate began today in Queens.
According to the Daily News, the prosecution recounted the same story that has been in the press since Mr. Monserrate's arrest last December. Mr. Monserrate is accused of smashed his girlfriend, Karla Giraldo, in the face with a glass after he found a man's business card in her purse after a Christmas party.
"He said 'You want the water, you want the water, here's the water," Assistant District Attorney Scott Kessler told [Justice William] Erlbaum, who is hearing the case without a jury. Kessler said Monserrate then struck Giraldo in the face with a glass causing two gashes near her left eye. "He's showing that he's in control," Kessler said. "He has power."
The defense said Mr. Monserrate was fetching the woman a glass of water after she had returned home drunk from the party.
"In one continuous motion water splashed on Miss Giraldo, causing her to jump up and collide with him and the glass," Tacopina said. "It was a freak accident in no uncertain terms."
Ms. Giraldo apparently told hospital employees that she had been attacked, but has since recanted. The defense contends hospital employees misunderstood, because she was speaking Spanglish.
Mr. Monserrate–who temporarily swung the State Senate to Republicans when he briefly defected from the Democratic caucus in June–has opted for a bench trial, not a jury trial, so it's up to Justice Erlbaum alone to rule on the guilt or innocence of the senator, who could face seven years in prison and lose his seat if convicted.