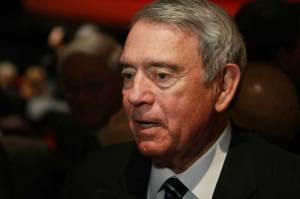 On the afternoon of Monday, Sept. 21, Justice Ira Gammerman of the New York Supreme Court ruled that Viacom chief Sumner Redstone will have to sit for a deposition in Dan Rather's ongoing $70 million lawsuit against CBS.
Mr. Rather and his lawyers have been seeking to depose Mr. Redstone, whose company oversees CBS, since the outset of the suit. For months, CBS lawyers have been working to block the deposition. But after prolonged deliberations, Justice Gammerman at last ordered that the testimony move forward.
In September of 2004—in the aftermath of CBS's flawed 60 Minutes II report on President George Bush's military service in the Texas Air National Guard—Mr. Redstone announced at a conference for CEOs in Hong Kong that he was supporting Mr. Bush over John Kerry in the 2004 election. "I look at the election from what's good for Viacom," Mr. Redstone said at the time. "I vote for what's good for Viacom."
Mr. Rather and his legal team have since alleged that Mr. Redstone was maneuvering behind the scenes to curry favor with the Bush administration, in part, by shaping CBS's handling of the aftermath of the flawed story, which became known as Rathergate.
"Chief Executive Officer, Sumner Redstone considered it to be in its corporate interest to curry favor with the Bush administration by diminishing Mr. Rather's stature and reputation," reads Mr. Rather's amended complaint. "At a Viacom board meeting after the Broadcast, Mr. Redstone was reported to have become enraged that the Broadcast had hurt CBS in the eyes of the Bush Administration, and exclaimed that Mr. Rather and anyone associated with him must go."
Mr. Rather's legal team will now get the opportunity to press Mr. Redstone under oath about such things as his communications with the Bush White House in the months leading up to the 2004 election. So far, no date has been set for Mr. Redstone's deposition. But the parties are due back in court on Dec. 22, and the deposition is likely to take place before then.
While most of the depositions in the case have already been conducted, Mr. Rather's legal team is still looking to depose a number of powerful individuals in addition to Mr. Redstone, including Dan Bartlett, the former White House communications director. As we reported back in November, the discovery process in the lawsuit has already turned up a number of interesting documents, including some behind-the-scenes communication between Mr. Bartlett and the independent panel set up to investigate CBS's flawed report.
"Today was a good day for CBS," lawyers for the network said after the Sept. 21 hearing. "The court expressed skepticism that deposing Sumner Redstone would prove in any way relevant to the case, and the court agreed with our request that any such deposition be limited to no more than half a day."
"It is now obvious that this is far more than just a contract dispute," countered Gary Meyerhoff, attorney for Dan Rather.