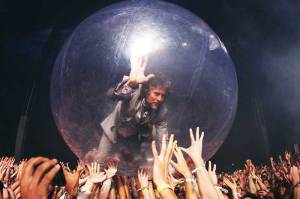 It was a bit of a gamble for the British concert promoter Barry Hogan to hold the first New York installment of his traveling All Tomorrow's Party festival at a dated Borscht Belt summer resort in the Catskills.
It was last September, and he'd assembled something of a dream lineup for the aging indie set, including the first U.S. performance in 16 years by Scottish fuzz-rockers My Bloody Valentine and much hyped appearances by Thurston Moore, Yo La Tengo, Built to Spill, Dinosaur Jr. and the Meat Puppets.
But even with a killer roster—oozing as it was with '90s nostalgia—would Mr. Hogan be able to lure a few thousand New Yorkers into the unfamiliar woods two hours north of their beloved metropolis for three whole days? At a cost of $225, plus travel and lodging expenses?
One week before the festival, all 2,800 tickets had been sold, some of them to die-hard fans from abroad.
But for ATP's sophomore edition, which is taking place at the same location, Kutcher's Country Club in Monticello, N.Y., this coming weekend, ticket sales have been considerably slower. When The Observer caught up with Mr. Hogan last week, he said he didn't expect a sellout.
"I think people have money, but they're being cautious with it and not spending it like they used to," he said, speaking by phone from the Lower East Side apartment where he'd set up camp for a few weeks with his wife and partner in ATP, Deborah Kee Higgins, to prepare for the event.
'The whole idea is to go up there and hang out in this place that looks like The Shining for a weekend, like a little adventure.'—Barry Hogan
Indeed, as far as rock festivals go, All Tomorrow's Parties—which began in England in 1999—is something of a boutique experience. The venues Mr. Hogan selects are usually highly intimate, off-the-beaten path and also a tad eccentric. (In Long Beach, Calif., the festival was held aboard the retired Queen Mary ocean liner.) Well-loved musicians or otherwise hip individuals help curate each lineup. (This time around it's the Flaming Lips; in the past, Nick Cave, Sonic Youth, Stephen Malkmus, Vincent Gallo and Simpsons' creator Matt Groening, to name a few, have had the honor.) Bands often play once-in-a-lifetime, exclusively tailored sets. (The bespoke handbags of indie rock!) There are no blockbuster acts, no massive crowds, no corporate sponsors and, perhaps most noteworthy of all, no VIP areas—yes, the bands and fans spend the weekend boozing in one another's company.
"The whole thing is the antithesis of what other festivals are doing," said Mr. Hogan. "It's for people who are really into records. The kinds of people who, when they buy an album, want to know who produced it and in what studio."
Nevertheless, given the sad state of our economy, how do you get people who are into buying records to shell out $235 for a festival pass (the price went up $10 this year, although Mr. Hogan is also offering $75-to-$95 single-day passes for the first time), when chances are they're not even buying, well, records? Plus, you have to convince them to spend a weekend away—that means gas, food, hotel—that will likely require at least a half-day off from work. (Things get going around 3 p.m. on Friday.)
Having the Flaming Lips, also the weekend's headliner, handpick some of their favorite artists is a start, especially when one of those is the trendy young noise-pop duo No Age performing a Husker Du LP from start to finish with the help of Bob Mould himself, and another is the Boredoms, doing that thing where they have a million drummers onstage.
You also get legendary post-punk acts like the Feelies and Suicide to perform their most classic albums. (In addition, ATP staples the Dirty Three will be performing 1998's Ocean Songs.) Then you reunite the Jesus Lizard; ask comedian David Cross to come up with a stand-up routine and famed producer Steve Albini to host a games room; recruit D.C. punk icon Ian Svenonius to do a taping of Soft Focus, the show he hosts for Vice magazine's online television network, with special guests the Melvins; set up a nonstop Criterion Collection film screening that culminates in a Q&A with director Jim Jarmusch; and throw in a handful of those bands all the kids seem to love, like Animal Collective, Deerhunter, Sufjan Stevens, etc. (Did we mention that Jon Spencer's obscure mid-'90s side project, Boss Hog, is also playing? Weird, but awesome!)
In other words, you pack the event with as many bands and people as possible that you were never in a million years supposed to see all in one place.
"I've skipped important family functions and parted with food and gas money to see many of these performers alone," said Martin Bricketto, a 28-year-old writer who is making the trek out to Kutchers this weekend. "So having them all play in one place during a three-day span is hard to wrap my head around."
All told, ATP takes just under $1 million to produce, said Mr. Hogan, adding that he's usually able to re-coup the cost and make a small profit to throw back into the business.
Depending on how things go this year, Mr. Hogan said he might consider bringing the festival closer to the city in 2010, perhaps to a larger venue to help bring the ticket price down.
But that would probably take all the fun out of it.
"Then it just becomes like everything else," Mr. Hogan said. "The whole idea is to go up there and hang out in this place that looks like The Shining for a weekend, like a little adventure. The reason ATP has been going strong for 10 years is because the fans have been loyal to us and they keep coming back, so we need to make sure we do what's right for them."