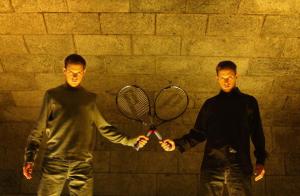 What sort of spell does the Bryan brothers' publicist Natalie Mikolich cast over assignment editors?
We were amazed last week as the Bryan Brothers, six years after their first Grand Slam victory, had profiles both in The New Yorker and the Times Magazine, with no obvious peg. And now, we've learned, 60 Minutes is profiling them.
Ms. Mikolich confirmed in an email that there has been filming for the 60 Minutes profile, but she does not yet know which personality will be conducting the interview.
The TV newsmagazine, incidentally, is all-in for this Open. As we told you earlier, Katie Couric was at Ashe on Monday working on a profile on Andre Agassi.