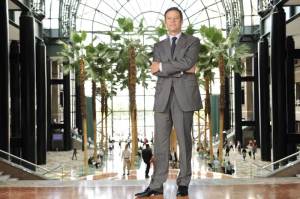 The Commercial Observer: What's happening at Brookfield?
Mr. Clark: We've just gone through a period of working to both preserve and enhance our liquidity. We've been working through some refinancing, and we did a very large equity raise of over a billion dollars. We did a $200 million preferred shared issue. We did it for two reasons. One, we wanted to have lots of liquidity in order to both make sure the balance sheet is strong in case financings were coming up and the market was still tight; and, secondly, we have a strong belief that there's going to be lots of opportunities coming up, and without a sizable war chest, we weren't confident we'd be able to participate in those.
A lot of people say they are refinancing right now. Why is that your strategy?
As an organization, we're in good shape. We started the year with a billion dollars of debt rolling, and at this point, within a week, it will all be put to bed. That was kind of a scary proposition for a lot of people, but we're very fortunate that the average-size loan that we had rolling this year was about $50 million, which was in the sweet spot of what was getting done this year. And we have no other debt rolling until late 2011. But, having said that, just given that we're not completely out of the woods from the economic standpoint.
In the 1990s, during the recession, Brookfield really thrived.
In the early to mid-'90s, we made a number of franchise-changing acquisitions, probably the most notable of which was the Olympia & York U.S.A. company, and that really has become the foundation for our global office platform. This period that we're going through now, in a number of ways, is similar to that, given the liquidity constraints, and we think there will be a number of good acquisition opportunities coming along as well.
What other similarities do you see between then and now?
Probably the main similarity is that borrowing money is next to impossible, and a number of companies have found themselves needing to de-lever in an illiquid market. They need to raise equity or debt in order to pay off rolling debt, and the market is so liquid they can't do it. And in that way, it's very similar. There's a major difference, though, to this market from last time. Last time, the illiquid conditions were compounded by the fact that there was massive overbuilding in almost every single market, and that's not the case today. I think there's an argument to be made that we should be able to get out of this quicker than we did last time.
What's happening at the World Financial Center.
Over the course of the last 18 months, honestly, there's been very little activity in New York in general, including the World Financial Center. The reason for that, there was a big bid/ask spread. Where we are now is there's a lot of optimism starting to brew within the markets. The economy has bottomed out. We've avoided the Armageddon scenario that everybody was worried about and it's sort of all up from here. Maybe not immediately up, but up from here; and because of that, the bid/ask spread has converged. I think we've reached common ground and activity has started again. The phone's ringing, our space showings have increased substantially.
We're still trying to get to the bottom of the question of whether or not Merrill Lynch needs to retain space at the World Financial Center, and, if so, how much, and that's kind of slowed our progress on leasing down here as well.
Are you feeling confident about Lower Manhattan in general?
If I remember the number right, there's $20 million in infrastructure happening basically right across the street from the World Financial Center. And there's progress on the memorial and on the transit hub, and, in fact, we've just shaken hands with the Port Authority to build the connection between the Calatrava transit hub and the World Financial Center. In a few short years, Lower Manhattan is going to be transformed into something that people really aren't going to be able to believe. And in conjunction with that, we're planning upgrades and improvements to the World Financial Center. We're going to rework the retail space and make other enhancements that will tie in perfectly to the World Trade Center.