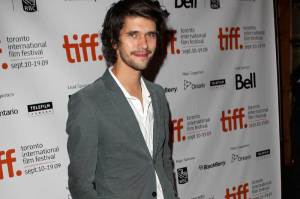 Ben Whishaw, the young British actor with a Romantic poet's mop of tousled black hair, stood alone by the bar at the Plaza's Oak Room during lunchtime at Tuesday, Sept. 15, wearing black Vans, black jeans and an untucked white dress shirt. Although slightly out of place among a crowd of carefully primped movie-industry types, Mr. Whishaw looks the part for his role as a love-struck John Keats in Jane Campion's new biopic Bright Star.
Ms. Campion said that she wanted Mr. Whishaw after seeing pictures in which he "looked like a rock star," comparing Keats to Nick Drake. "I thought—yes!"
But at around 5-foot-11, isn't the actor too tall to play the shrimpy Keats? "He was a tiny man," Mr. Whishaw said. "He was 5-foot-3 or something. We didn't dwell on it too much. Although I think for Keats it was a bit of a hang-up."
Mr. Whishaw has had a string of literary parts—as Sebastian Flyte in Brideshead Revisited, and as the young scribbler Bob Dylan in I'm Not There. "Maybe I'm just drawn to the material," he said, but denied having any literary talents himself. "I keep a sketch pad, and I'm really interested in gouache at the moment. I do abstracts and stuff."
The film tells the story of Keats' unhappy love affair with Fanny Brawne (played by Australian Abbie Cornish), a seamstress whose family disapproved of the match. The dispute was settled by tuberculosis, which cut short Keats' life at 25.
"I think it's very easy to become addicted to the feeling of falling in love, and the emotions you experience," Mr. Whishaw said reflectively. "But I'm realizing that that kind of romantic love isn't really all that, it's not really the deepest kind of love we can experience as human beings." Who said he wasn't a poet?
Keats didn't think much of Fanny's interest in clothing, but Mr. Whishaw is more accepting: "I can appreciate other people dressing really beautifully, but I go into shops to buy clothes and something happens to my brain, and I want to get out of the shop as quickly as possible. So I need people to buy things for me."
Paul Schneider, who plays Keats' interfering friend Charles Brown, was also sartorially preoccupied. "When I left L.A., I thought these socks were black," he said, hiking a leg of his black suit pants to reveal the offensive stocking. "They're blue. I took them in the kitchen like three times under the light, and I was like, 'Are these black?'"
Assured of being otherwise impeccable, Mr. Schneider turned to the subject of Ms. Campion, an early influence. "Her movie The Piano changed my life; I saw it when I was 17, when I was just a pot-smoking redneck, and I decided to go to film school. I have the fucking ticket stub." Hollywood Cinemas, Asheville: $5.50.
"I brought the ticket stub to London," Mr. Schneider said, when he received the call from Ms. Campion for Bright Star. "I said, 'I'm not just sucking your dick here, Jane, I'm a big actual fan.'"
Don't expect much graphic action in the movie, either. Ms. Campion said she wanted to be true to the historical record—for all their passionate talk, apparently Keats and Fanny had a largely clothes-on affair. "They were living on the same roof, so I guess they were kissing a lot and doing everything else that they could do," Ms. Campion said.
How did she resist the temptation to take liberties with historical accuracy? "I didn't see how it would be improved by having them fuck."