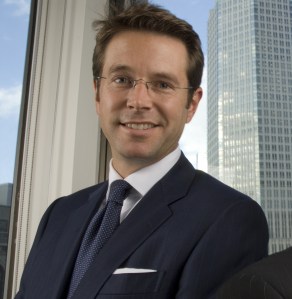 Between bites of soft-shell crab and tempura-battered shrimp at Aureole, the sleek new Charlie Palmer kitchen affixed to the ground floor of One Bryant Park, brokers from the Durst Organization allowed themselves a few celebratory wine toasts.
A clink here for global trading firm Instinet, which signed a deal earlier this month for 107,000 square feet at 1095 Sixth Avenue; and another there, in celebration of the decision by Bank of America to pull 500,000 square feet off the market at the very building where all the merry revelry was taking place that night. And another and another and, really, why not?
"What all the brokers were saying is, 'I'm glad you didn't have this party six or eight weeks ago,'" said Durst Organization co-president Jody Durst, who merely had to zoom from his 49th-floor office to get to the Sept. 10 soiree. "Because there wouldn't have been anything good to talk about."
Indeed, from the Durst Organization to Rudin Management, and from CB Richard Ellis to Cushman & Wakefield, brokers say they have witnessed a whispered but well-appreciated uptick over the past three months, thanks in no small part to renewed confidence in the economy, lower rents and the cyclical nature of leasing.
Since early this summer, in fact, brokers have watched big-name and small-money tenants alike take a seat on the real estate roller coaster, which appears to be heading upward. Emboldened by rents that have decreased, on average, by $19 a foot since last summer, some short-term tenants are now swallowing 10- and 15-year contracts while others are relocating, albeit to smaller offices.
While many leasing agents suggested the uptick might have begun as early as April, only the past two months have surpassed 2008 numbers, with August delivering the biggest gains. In that month alone, leasing activity in Manhattan jumped from 1.06 million square feet in 2008 to 1.8 million in 2009, for an increase of 740,000 square feet.
July, meanwhile, saw a 482,000- square-foot spike as leasing in Manhattan climbed from 1.7 million square feet in 2008 to 2.2 million in the same month in 2009, according to CB Richard Ellis.
Among the major sectors, downtown Manhattan saw the biggest gains in August, with 430,000 square feet inked last month compared to just 130,000 for the same month last year.
ALTHOUGH MANHATTAN VACANCY rates saw a small decrease last month—from 12 percent in July to 11.8 percent in August, according to monthly data by Colliers ABR—most real estate experts predicted those numbers wouldn't plunge significantly anytime soon.