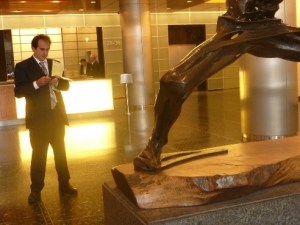 Dan Cantor was standing in the lobby of 80 Pine Street behind a giant statue of Sampson, looking supremely relaxed.
It was 1 p.m.—eight hours before the polls closed in the poorly attended citywide run-offs for public advocate and comptroller. But he already knew his guys were going to win.
Cantor, 54, the executive director of the Working Families Party, clung to a slab of yellow paper with words circled and crossed out on it, and he punched the buttons on his Blackberry. Members of his organization had been the field since 4:30 a.m. on the morning of Tuesday, September 29, stapling campaign signs onto street lights, pushing voters into booths and ensuring that Bill de Blasio and John Liu would rack up the margins.
After several more minutes juggling his Blackberry and notepad, Cantor was joined by Bob Master, the W.F.P.'s co-chair and legislative-political director for the Communication Workers of America, which has office space on the 37th Floor of the building.
"This is how you dress," said Master, in blue jeans and a dark shirt.
"It's Election Day," replied an unapologetic Cantor, in a suit and tie, slightly askew.
They've been friends since their days growing up in Levittown, Long Island, where they attended the same junior and senior high schools. (Master went to Princeton – something he acknowledges while rolling his eyes. Cantor went to Wesleyan [corrected]. Now these two union operatives live a few blocks away from each other in Park Slope.)
While Cantor's labor-backed party has won more victories this year than ever before, he and Master still described themselves as the underdogs, and as caretaker of a movement powered from the ground up.
"It's easier for the media to identify the party with Dan, he's the executive director, he's the Mike Long, et cetera, et cetera," he said, referring to Cantor's counterpart in the New York State Conservative Party, whose influence over his party's decision-making process is undisputed.
"The difference is, you know, when Ray Harding was the head of the Liberal Party, Ray Harding could walk into a room and tell [Rudy] Giuliani, 'You got it.' Whereas Dan has to say whoever he's talking to, here are the rules. Here are the list of votes, you go figure it out," said Master.
Cantor joined in the display of modesty.
"Somebody said to me, one big important person, said REBNY [Real Estate Board of New York] is used to having 95 percent of the power. You have taken them down to 92 percent," said Cantor. "They are pissed. It's like, they're still unbelievably powerful and wealthy forces in New York, and we'd like to take them down a little bit lower, because at the end of the day, we think a lot more people agree with us than with them."
It's hard to imagine they still could have been totally in earnest talking about themselves as the little guy up against Big Real Estate, given what they were about to pull off.
When the polls closed, de Blasio and Liu had both won going away.
De Blasio, propelled, controversially, by the W.F.P.'s rules-bending field arm Data and Field Services, beat two-time public advocate Mark Green by a margin of 63-37. Liu beat outgoing council member David Yassky 56-44.
The party's growth has been explosive. And now, after this city election cycle, they're the big guys.
When state officials first recorded the number of registered voters in the Working Families Party, in April of 1999, Cantor could have probably named them all. There were just three in the Bronx, four each in Brooklyn, Manhattan, and Queens. None were in Staten Island. Statewide, there were an additional 95. Most counties had no voters registered in the W.F.P., and none had more than six.
A decade later, the party has grown, with 12,927 registered voters in the city, and 39,111 in the state.
That was before this election. Come November, two of the three citywide elected officials will owe their new jobs to the W.F.P., along with five incoming freshman at the City Council.
The party endorsed 37 candidates for the City Council, but focused on removing at least four weak incumbents who voted to extend term limits (Helen Sears, Kendall Stewart, Maria Baez and Alan Gerson). Each of them lost to candidates backed by the W.F.P., who also put troops behind desired candidates in a handful of open seats. (Brad Lander and Steve Levin won their races; Maritza Davila in Bushwick and S.J. Jung in Flushing did not.)
A few incumbents who voted to extend term limits for the Council and for Mayor Bloomberg, like City Council Speaker Christine Quinn, got the W.F.P. endorsement – a wisely extended olive branch – but were left to their own devices to fend off challengers. Quinn did, but with just 52 percent of the vote. Others, like Darlene Mealy, who won her seat four years ago solely because of the W.F.P., were cut off from receiving any help, and barely scraped by their primary challengers.
The voters in most districts in New York will always vote for Democratic Party candidate in the general election—that's one thing that hasn't changed. So the W.F.P. has gone inside, seizing control of the process by which the Democrats elect their own members.
"If you tried to take over, people would be like 'Whoa, I'm not voting for the Democrat?" said Michael Oliva, a Democratic consultant who worked at different points for two of the losing, non-W.F.P.-endorsed Democratic public advocate candidates, Eric Gioia and Norman Siegel. "So, if they actually tried to be the number one party in the state, it wouldn't work. But now, the Democratic Party is the label, and they [the W.F.P.] are the apparatus."
By "apparatus," Oliva means the party's Get Out the Vote Operation, which has been lauded as not only better than that of the Democratic Party's, but the only real one left in New York.
In Oliva's estimation, the Democratic organizations now amount to "a bunch of clubs with ten senior citizens who get five signatures on your petitions."
The timing for an enterprise like Cantor's couldn't have been better.
2009 was an exceptionally low-turnout election—354,000 Democrats voted in the primaries on Sept. 15 (though not all of them bothered to cast a vote for mayor), and a total of about 228,000 Democrats, or 7-odd percent, voted in the runoffs–with no competitive mayoral primary to speak of, and a feeling of inevitability about Bloomberg's re-election that's hard to ignore. Combined with the protracted implosion of the state's first African-American governor, and public rebuff he received from the country's first African-American president, there was hardly any ink or eyeballs left for the undercard contests.
A media frenzy, this election isn't.
Despite the number of Democrats elected to office, there is hardly a unified Democratic apparatus that can claim credit for any of them. New York is filled with Democrats with seemingly unshakable control over their respective corners. Critics say that has led them to put self-preservation over policy initiation, creating a vacuum the W.F.P. has exploited.
As one W.F.P. operative put it, gloatingly, "They became soft, fat and happy."
The W.F.P. now represents the great new variable in New York elections to come. How effective will they be in statewide contests? How will they leverage their undeniable influence in city elections: By orchestrating the election of the next Council speaker? By branching out into judicial races, and taking over the Democratic Party apparatus, such as it is, ED by ED?
What candidate, who doesn't happen to have billions of dollars with which to self-finance, will be in a position to defy them?
Depends on who you ask.
"In a statewide election, they may not make a difference," said Bill Cunningham, a former top aide to Hugh Carey in Albany and, more recently, communications director for Bloomberg.
The party won victories in "2006 and 2008 and in City Council elections, and some degree in the de Blasio and Liu races, because it was an extremely low turnout," said Cunningham. "What if the turnout wasn't 11 percent, but 22 percent, we don't know if they'd have any impact at all."
The W.F.P. guys say that, in practical terms, defeating Michael Bloomberg in the general election is a long shot. ("We've got to figure that out," said Master) and even replacing the current City Council Speaker seemed low on their agenda.
"We have a good relationship with speaker Quinn. We endorsed her," noted Cantor.
In fact, said Master, "She came to our executive committee meeting on Friday."
"No one ever says oh, the Working Families Party, that's the patronage party," Cantor said. "No, those are the unbelievably boring Social Democrats who want to use the power of the state, in some good ways. That's not a bad thing."
He turned to Master. "That's our new slogan: Boring Social Democrats."
Yeah, right.