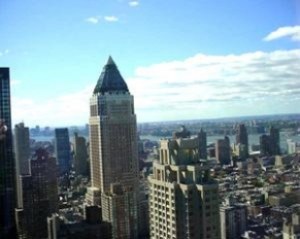 When Post reporter Adam Bonislawski arrived at the Park Imperial Building on West 56th Street–where Daniel Craig, Sean Combs and Deepak Chopra all live–and told the white-gloved doorman he was there to see George Hobica, the doorman asked him to carry up a power drill.
Mr. Hobica, who recently sold Airfarewatchdog.com to Expedia, had been unable to secure a loan for the apartment, so he bought it outright for $3.2 million. That didn't leave him much for home furnishings, so he plunked down $1,000 at IKEA to furnish the 1,660 square foot apartment with the simple, Swedish designs, and he was still working on assembling it all when the Post came to visit.
Which should tell us, maybe, that IKEA North America president Pernille Lopez may be onto something: "The Home is the Most Important Place in the World campaign isn't about bricks and mortar, or real estate value. In today's home market whirlwind, IKEA is focusing on the fact that no matter where you live or its dollar value, HOME is about the emotional connections of family, friends and just daily living."
Right?