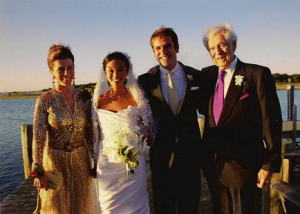 On Nov. 3, 2003, Lionel Pincus was standing in a tuxedo in the New York Public Library's Astor Hall. It was the Library Lions gala, and everything was lovely. The venture capitalist's longtime companion, Princess Firyal of Jordan, was there, and so were Lord Conrad Black, Veronica Hearst and Henry Louis Gates. Trumpets called guests into the dining room, where there was cinnamon in the branches by the tables.
"Smile!" a photographer told the poet Billy Collins, a gold medallion around his neck, and the night's other honorees.
"Lions don't smile," one snapped.
"Not until they're fed," said Mr. Collins. Dinner that night was quail, pheasant pie and poached pears.
In the six years since, Lord Black was imprisoned for mail fraud, Ms. Hearst lost her mansion to foreclosure and Anthony Marshall allegedly exploited his dying mother, the library hall's namesake, before her death at 105. But even the Astor case doesn't touch the tremendous dazzle and profound weirdness of what's happened with the princess and Mr. Pincus, a 78-year-old who's been legally incapacitated for three years.
One way to tell the story is to say that Mr. Pincus' two sons want to sell off their father's $50 million, 7,000-square-foot, 14-room duplex at the Pierre, where the monthly maintenance is over $27,000, and give the proceeds to charity. The princess, the type of person who can spend $6,508 of Mr. Pincus' money on towel warmers, wants it for herself. "They feel," a source close to the sons said after they sued in August to ensure a sale, "like she's going to stop at nothing."
The real story is immensely more complicated. There are, according to years of documents obtained by The Observer, ferocious emails, unreliable letters and a failed agreement to give the princess the Pierre duplex, plus well over $100 million, if she limited her time with Mr. Pincus to four chaperoned meals and an outing per week. She would not have been involved in burial service plans.
"They think she's a menace," William Zabel, the sons' attorney, said. "That's what the whole thing is about. It's not about preserving money. Above all, they want their father to be left alone." The problem is that the Pierre duplex is hers, or at least it seems to be.
"Do they wish Dad had never met this nice-looking woman who showed him things he had never experienced?" a source close to the princess said. "Sure, greedy little sons of a bitch."
>>MORE FROM MAX ABELSON ON THE PINCUS-PRINCESS DRAMA
A Tour of the Pincus Palace at the Pierre
Rumble at the Pierre! The Pincus-Princess Backstory
THE JERUSALEM-BORN princess, who attended a British boarding school and married one of King Talal of Jordan's sons before her 20th birthday, is very beautiful. By the mid-'80s, a news story that needed to rattle off a group of chic names mentioned her in between Princess Caroline and Catherine Deneuve. "Opulent and classic, with a great sense of color," is how Gotham's best-dressed list put it this year. In her 60s, she resembles Annette Bening, except she's not from Topeka.
She has dated very rich men, but not wimpy ones. "She was the first woman to operate in his league," Vanity Fair wrote in a 1992 profile of the monolithic tycoon Stavros Niarchos. "He really cared for her."
In 1996, Princess Firyal says in an affidavit, she met and fell in love with Mr. Pincus, who co-founded the multibillion-dollar private-equity firm Warburg Pincus. He had lost his wife to cancer a year earlier. "We soon became an inseparable couple and we have been devoted partners ever since."
The princess changed his life. By 1997, they were sipping Champagne with Denise Hale, a goddess of the San Francisco social scene. They went to St. Petersburg for the dedication of the restored Edmund J. Safra Synagogue, just after the banker's infamous Monaco death.
"He had lived like a New York banker—very well, very comfortably, with a wife and children," New York Social Diary's David Patrick Columbia, a longtime acquaintance, said. "She opened up this world to him that he really had no access to before."
There was an outdoor Champagne reception with Prince Charles, in his Gloucestershire garden under ancient Lebanon cedar. There was the Library Lions gala, and then another. "She's charming. She's amusing. She's stylish. She's incredibly attractive," another New York socialite on that best-dressed list said. "I'm sure he was swimming."