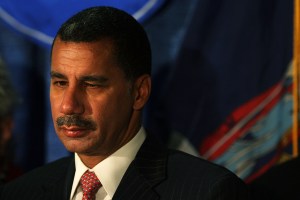 In today's Observer, Azi and Jimmy collectively untangle the David Paterson Saga and find that Paterson's inner circle may have nudged (or dragged) him into taking a confrontational stance with the Obama administration.
Mr. Paterson left that eventful meeting with [Obama emissary Patrick] Gaspard—it took place on Sept. 14, a week before it was actually reported—on a cordial, not confrontational, note, according to one source familiar with the dynamics of the situation.

As Mr. Paterson huddled with advisers, "all of a sudden the meeting took a different cast." According to the source, Mr. Harris and Mr. Johnson in particular saw it (correctly, actually) as an affront, and over the next few days pushed the governor to resist.
Three days after the meeting, Paterson announced he was hiring a campaign manager with Obama-related credentials. Two days after that, the President's anti-Paterson push was "leaked" to all the papers.
It's clear the Obama administration has now stripped the governor of a graceful exit; what's less clear is whether Mr. Paterson truly intends to run–as he insisted yesterday–and whether he truly believes he can win. As Azi and Jimmy point out, the governor's unpredictable inner circle means nothing can be assumed with the Paterson camp.
It's not even clear that the governor sees the election as a hopeless prospect. To believe that the governor perceives the situation the same way as everyone outside an immediate circle of loyal advisers does assumes, as the White House presumably did, that the David Paterson operation is a rational, predictable decision-making entity.
So will we see a Democratic primary in 2010, and–if so–how long will it last? All bets are off.