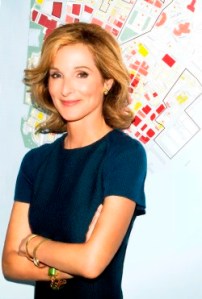 The giant wave of end–of–second–Bloomberg-term land-use approvals is making its way to the halls of 22 Reade Street, as the Department of City Planning, led by the powerful Amanda Burden, is tackling a mass of major planned developments this week.
Here's a quick rundown of what's on tap:
Jean Nouvel/MoMA/Hines 53rd Street Tower — The planned 1,250-foot tower, designed by Pritzker Prize winner Jean Nouvel, is up for a vote before the City Planning Commission on Wednesday. Here in the process Ms. Burden can—and has been known to—change the shape and/or height of projects. (Recently, she changed the design, and lobbed a story off, of David and Jed Walentas' Dock Street building in Dumbo.) Will she feel the need to adjust the famous Frenchman's design?

Broadway Triangle — This planned subsidized housing development in Brooklyn has become a political hornet's nest, with one of the local council members, Diana Reyna, strongly opposed to the project. The Bloomberg administration is pushing this plan, and given that its most contentious aspects concern process (two politically connected nonprofit groups were given no-bid contracts to develop on the site), it's probably unlikely any major changes will be made by Ms. Burden. There is a hearing Wednesday.

Kingsbridge Armory — Another Bloomberg administration–led project, which would transform a behemoth of a former Bronx armory into a mall, is under attack from unions and a local employer. The groups want the site's developer, the Related Companies (led by Stephen Ross), to guarantee a prevailing wage for all retail workers and to promise that no supermarkets will go in the development (the owners of the nearby Morton Williams are pushing this). The local elected leaders have signed on to these issues for now, though there's often room for nuance by the time the City Council votes. The project is up for a hearing Wednesday.

West Side Rail Yards — Stephen Ross' vision for the West Side rail yards is up for review, with a hearing Wednesday. The project has been relatively lacking in the arena of dramatic land-use battles, as most of those complaints were aired when the mayor tried to put a stadium on the site. The community has many a complaint for two middle-income housing projects that accompany the rail yards plan, and there is sure to be a continued push to preserve the High Line in the area. Related, again, is the designated developer, but it hasn't yet signed a contract with the site's owner, the M.T.A., to build.
ebrown@observer.com