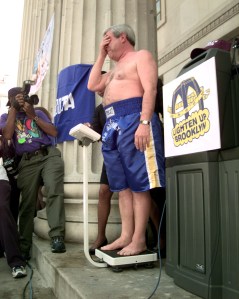 No one seems to be feeling especially good about Atlantic Yards today.
The Post notes that voluble Brooklyn B.P. Marty Markowitz, a long-time backer of the project, has been strangely silent since the announcement that Russian billionaire Mikhail Prokhorov is buying the team and investing in the 22-acre development.
"It's a combination of anger and embarrassment," said one operative. "He signed on to a magnificent Frank Gehry-designed Brooklyn palace in the sky, and now he's got a foreign-owned big hole in the ground."
Develop Don't Destroy Brooklyn (still a project opponent) has a more dramatic lamentation, from an editorial in Vedomosti, a Moscow business paper. From their rough (but human) translation:
Purchase of the American basketball club New Jersey Nets by Mikhail Prokhorov is a vivid example of «business the Russian way» in the sense that it is easier to do it abroad.

Moreover – this is a consequence of one of the most disgusting traits of our character: I will give you everything that you wish, but to your neighbour I will give twice more. — Dear God, take one of my eyes.
I hope that's some kind of idiom. It goes on to mourn the state of Russian basketball, and to say "we can be only glad for Mikhail Prokhorov." So that's something.