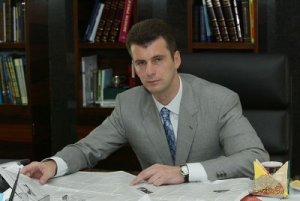 "Sale Should Lift the Nets Restraint$"– there are five S's in that headline and only one gets the dollar treatment. We can do better than that.
In any case, Fred Kerber is excited about the Russian tycoon Mikhail Prokhorov buying a majority share in the Nets. He calls Mr. Prokhorov "a lifeline," and hopes Russia's richest man might be willing to use some of the salary cap space the Nets have been hoarding for this fabled Summer of 2010. He even mentions LeBron James—who, I might add, always gets talked about as a future Knick, but has already said Brooklyn is his favorite borough, and, don't forget, is friends with Jay-Z, who owns part of the Nets.
In the Bronx, there's a little buzz about Ian Kennedy pitching a scoreless 8th inning last night. It was his first big league game since an infamous start last year, when he gave up five runs in two innings and then, after the Yanks lost, he said he wasn't "too upset about it." Mr. Kennedy was promptly banished to the minors, where he got hurt. He walked the bases loaded but managed to get out of the inning, Mariano Rivera pitched the ninth, and the Yankees won 3-2. Oh, and they're resting C.C. Sabathia, who says he wants to be sharp into November (yes, the baseball season will go into November this year).
More Yankees pitching news: Justice Sonia Sotomayor takes the mound on Saturday to throw out the first pitch. Ms. Sotomayor, as you may recall from that interminable confirmation process, is a die-hard Yankees fan and helped end the baseball strike in 1995 when she was a district judge. A law prof says she's "the most important federal judge in the history of baseball besides Judge Kennesaw Mountain Landis." (In 1915, the upstart Federal League accused Major League Baseball of being an illegal trust, but Landis declined to act on the case, and the Federal League soon folded. For this, he was made the league's commissioner.) Other baseball fans on the bench: John Paul Stevens and Samuel Alito.
The Mets' minor re-shuffling of minor league executives has most people thinking that general manager Omar Minaya, and manager Jerry Manuel, will be back next year.
The football writers had their mid-week stories. The Jets say they're going after Tennessee QB Kerry Collins, as Rex Ryan defenses are wont to do. But Tennessee has a slippery running back in Chris Johnson, who gave Ryan's Baltimore defense some problems last year before he hurt his ankle. Ever the diplomat, Ryan told the Post: "He got hurt early in the game, which I wasn't disappointed about."