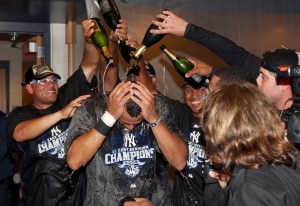 Everyone's a hero in the sports sections this morning—even Alex Rodriguez–after the Yankees secured the A.L. East with a sweep of the Red Sox, and the Giants and Jets stayed undefeated by beating up on a couple of winless teams. Oh, and the Mets won too.
You know it's a happy day in New York sports when Alex Rodriguez gets two glowing articles. Forget the Captain; "Alex Rodriguez is the Yankees, and the Yankees are Alex Rodriguez," writes Joel Sherman in the Post. Rodriguez is a little more dramatic: "I went through hell and back." Not sure if he means Vail, Colorado–where he had surgery–or if he means being outed as having used steroids, but either way, the Daily News' Flip Bondy calls his season "a wonderful comeback story."
The News and the Post both have head-first headlines about Jets' quarterback Mark Sanchez smashing his way into the end zone for a score. Gary Myers says teammates are already calling him "The Sanchize," which I hope is not true. Worse, perhaps, Steve Serby proposes a coming-of-age moniker: "Manchez." Leave it to the Times to throw some cold water on the 24-17 victory over the Titans: "A Sloppy Win…"
But the Times lightens up in its story about the Giants beating up on lowly Tampa Bay. The nut graph: "The Giants did everything to the Buccaneers but capture that large pirate ship that adorns the north end zone of Raymond James Stadium. Aarrggh!" The link to Talk Like a Pirate Day is theirs, not mine. The score was 24-0, and the Giants racked up 397 yards in this game, to Tampa's 86. But don't worry, Tom Coughlin still didn't enjoy himself: "The missed field goal upset me," he said.
In the Post, Phil Mushnick is upset that Al Sharpton will be hosting the wrestling show "Raw" tonight. (Maybe it has something to do with the wife of WWE owner Vince McMahon declaring her intention to run for the Senate last week?) "Let us pray," Mushnick writes.