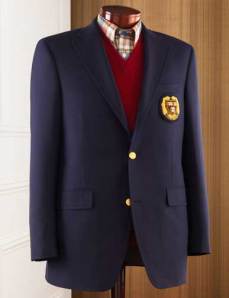 For everyday New York men who strive to be reasonably well dressed, it can be a daunting experience shopping for clothes that won't make you look like an ass.
Simply traverse the labyrinthine corridors of Barneys, Bergdorf and Bloomingdale's, where the all-over-the-place mess hanging from the men's racks is enough to induce migraines: Are pink ties metro or macho this week? Should slim-fit jeans really be this tight? Why do these scruffy flannel lumberjack shirts cost $300? And what's with all the crazy stripes and extra pockets and ridiculous eagle prints? Things aren't any simpler inside the showrooms of up-and-coming men's wear designers, a casual survey of which might make a discerning fellow ponder whether he'd rather look like an urban vampire (Robert Geller), a coal miner (Gilded Age) or a confused sailor (Rogues Gallery).
All of which helps explain the current appeal of American "trad," short for traditional: an Ivy League–inflected style that's managed to retain an old-school sensibility without seeming dated or costumelike. Trad is, quite simply, a safe haven for sartorially selective gentlemen amid the ever-growing chaos of department stores and runways.
Think Oxford button-downs (and that's real button-downs, meaning collars that button down, not simply dress shirts, to which the term is often misapplied). Natural-shouldered blazers. Flat-front khaki trousers. Loafers. Bow ties, rep ties. Polo shirts in solid colors. Lots of madras plaid. Early Brooks Brothers. New England WASPs. F. Scott Fitzgerald.
"Trad is sort of the antithesis of what's happening in fast fashion right now," said Michael Williams, 30, who obsesses over classic American men's clothing on his blog, A Continuous Lean. "It's like the opposite of what all the men's wear designers are doing," Mr. Williams continued. "It's not fashion; it's clothes."
THE ORIGINS OF trad date back to the turn of the century, with the founding in 1902 of the New Haven–based men's clothier J. Press, considered the epitome of the style. The look became prominent on the Ivy League campuses of the 1950s and '60s, as documented in the Japanese book Take Ivy, a rare photo collection first published in 1965 that's enjoyed something of a revival in the past year. The term trad itself is said to have been coined by the Japanese, who have also been driving the current fascination with obscure U.S. clothing brands and Americana that's taken hold at various men's boutiques, department stores and on a handful of blogs akin to Mr. Williams'. (J. Press was acquired by a Japanese company, Onward Kashiyama, in 1986.)
Perhaps you've noticed Lacoste polos, Ray-Ban eyewear, bow ties and hand-sewn camp moccasins on the streets of Billyburg?
Those who embrace the look say subtlety is key.
"When done right, it should almost be invisible," said John Tinseth, 52, an insurance broker and longtime traddy who's been writing a blog called The Trad—anonymously, until now—for the past two years. He was on the phone from his West 57th Street apartment, dressed, he said, in L. L. Bean khakis and moccasins and a yellow university-stripe Oxford by Rugby.
"A guy should walk right by you and he'll have the whole thing down and you won't even notice," Mr. Tinseth said. "That's when it's done perfectly."
'Imagine your best-dressed uncle throwing open his closet for you to frolic around in.'—David Wilder of J. Press
In New York, ground zero for trad is the J. Press store on Madison Avenue and 47th Street, one of the company's four U.S. retail locations. (The others are in New Haven, Boston and Washington, D.C.)
There, you will find David Wilder, a polite 41-year-old sales associate and trad guru to scores of Manhattan males.
On a recent Friday afternoon, Mr. Wilder, who is tall and broad of build, with thin blond hair and Joycean spectacles, was toggling between register, rack and fitting room, stopping every so often to chat with familiar customers, who greeted him brightly by name.
He was trying to find a properly fitting $595 navy blue wool blazer for a young buck headed back to school at the University of St. Andrews in Scotland.
"I think this one's going to be a lot better," Mr. Wilder said, sliding a size 41-long onto the studious shopper's shoulders.