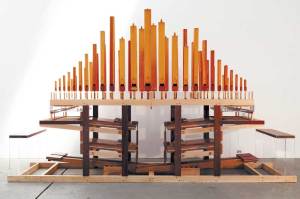 The past couple of years have proved a weird, overstressed time for art, and weirder still for those of us trying to keep score at home. In New York, vast numbers of artists make a vast quantity of new work, which is, in turn, packaged, displayed, expounded on, sold and trucked off to memory's landfill by even vaster numbers of dealers, curators and critics.
This used to take time. No longer. Today, the social moment lasts longer than the lifespan of a fruit fly. But not by much, and just wait until the money pumps back into the market sometime next year. Please, a quick show of hands. Who remembers "Lessness," the shrugged off spiritualism evinced at the last Whitney biennial? How about the 10 big up-and-comers from the not very vivid year of 2006?
This is a critical slide area, and a problem to sort out. Still, there are gallery shows that capably center an artist for the audience, while setting out some definitive idea of what the artist has been working on since we last saw them and what direction he or she is headed—which is to say, definitive for the next six months. Two such shows are currently up at Deitch Projects.
At the gallery's 18 Wooster Street location, a show of artist Tauba Auerbach, titled "Here and Now / And Nowhere," runs until Oct. 17. This is Ms. Auerbach's second solo show at the gallery. Earlier this year, the artist, who was born in 1981 and works in New York and San Francisco, appeared in "Younger than Jesus," the instant-youth survey at the New Museum, with well-made paintings that approximated, in two dimensions, the surface of shattered glass.
"Here and Now / And Nowhere" is a multiplex array of the artist's work since then. It includes the artist's Static series of photographs, Crumple and Fold paintings, a sculpture and—center stage—The Auerglass, a two-person wooden pump organ created by Ms. Auerbach and Cameron Mesirow, of the Los Angeles group Glasser, and constructed at Parsons Pipe Organs in upstate New York.
The Static works are big color photographs of analog interference patterns, i.e., the roll on the picture of your landlocked grandmother's outdated television set. The Static series—eight are on view—bank fast acting, acidic colors against grainy backgrounds. Just stick with the fact that the photos are beautiful.
The biggest paintings in the show, Crumple VI and Crumple VII (2009), look like a crumpled sheet of paper, greatly enlarged. On closer inspection, the works' surface break down into head-spinning grids of benday dots, as in the style of Bridget Riley's Op paintings from the 1960s. Close are a suite of Fold paintings which look—get ready—like a folded sheet of paper but are actually carefully handled paint.
How about that organ? You can find the artist there, every Tuesday through Saturday, at 5 p.m., until Oct. 17, playing on the goofball pipes. I caught one performance on the Friday before Labor Day. If I tried to resist it, resistance failed. Without cohering, "Here and Now / And Nowhere" is alert sorcery.
Around the block, at Deitch's space on 76 Grand Street, is "Black Light," a show of 18 photographs by the well-respected Kehinde Wiley that runs until Sept. 26. Mr. Wiley paints photorealistic portraits of contemporary African-American men in lordly postures à la Van Dyck. We've seen a lot of the lordly Wiley in recent years. The critic Roberta Smith, writing in The Times last year, numbered the artist's solo shows since 2003 at 15.
"Black Light" may be the first time we've seen Mr. Wiley's photographs, but the show—his sitters were found at the Fulton Street Mall—does not budge one's idea of Mr. Wiley, his powers as a painter or the sense of an artist hitting an agreeable formula. Mr. Wiley's photographs, like the painting, are lustrous on the surface, technically gleaming, and airless.