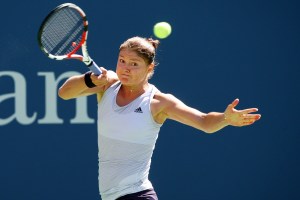 Perhaps Richard Williams was right about Dinara Safina.
In what had to be the ugliest women's tennis match we've seen since the 2007 semifinals, she just barely escaped the ignominious claim of becoming the first ever no. 1 women's player to lose in the first round at the U.S. Open. She beat an 18-year-old Australian wild-card entry, Olivia Rogowska, 6-7, 6-2, 6-4 in a match that had a total of 38 winnners and 113(!) unforced errors.
We'll have more on this match later, but for now expect lots of chat about Safina's big mean coach Zeljko Krajan, who scowled and screamed and cursed quite a bit during the match. On ESPN, Mary Carillo, Cliff Drysdale and Mary Joe Fernandez disapproved. We're sure this will be the storyline come tomorrow.
Just to give you a taste of how this match looked:
Safina: 19 winners, 48 unforced errors
Rogowska: 19 winners, 65 unforced errors