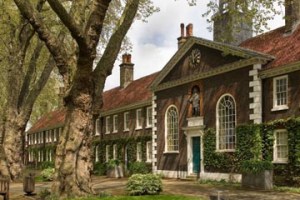 London's cultural hotspots and famous galleries are no secrets, but there is a little-known treasure trove of cultural and historical riches that extend beyond the Tate, National Gallery and Victoria & Albert Museum. Here are some of my favorite hidden gems–from the weird, but wonderful Huguenotesque Dennis Severs' House to the exotic rare collections of famous architect Sir John Soane. Put one (or a few!) of these on your list for your next visit …
Sir John Soane's Museum
Once the home of Sir John Soane (1753-1837) who was not only the famous architect behind the Bank of England, but also was an avid collector of rarities and curiosities. The collection, not specific to a particular era or genre, includes Egyptian, Classical, Medieval, Renaissance, Neo-Classical and Oriental antiquities, sculptures, paintings, casts, furniture and timepieces. Find yourself surrounded by perhaps some of the strangest and rarest acquisitions, such as the Egyptian sarcophagus, paintings by Turner and Canaletto, drawings by Christopher Wren, William Hogarth's original Rake's Progress cartoons, and a mock medieval monk's parlor. Look out for the secret panels in the picture gallery—they reveal more works of art when unfolded.
Admission is free but the number of visitors is limited due to the building's size and fragility, so you may have to wait in line. Best to arrive early and always avoid Saturdays or, better still, go on the first Tuesday evening of the month to see the place bathed in candlelight. Insider Tip: download a free audio tour from the museum's Website prior to your arrival.
www.soane.org | Phone: + 44 (0) 207 405 2107
13 Lincoln's Inn Fields | London WC2A 3BP England
The Museum of Immigration and Diversity
If you're looking for the ultimate once-in-a-lifetime museum opportunity, then 19 Princelet Street in Spitalfields is just the ticket. This building is so rare and so fragile that open days are restricted to single digits. For example, in 2009 the museum will only open its doors for a handful of days during the entire year. To arrange a visit outside of these dates, a four-week written notice is required. This bona fide time machine is unspoiled by modernity. It remains hauntingly unrestored from its original 1719 state, when a Huguenot master silk weaver owned it: including a rare Polish synagogue where the garden once stood, alleged to be London's second oldest. This museum is the only European cultural institution exclusive to the themes of immigration and diversity. It's been understandably described by intrepid world traveler Michael Palin as "one of the most remarkable places in London." There is no charge, but donations are encouraged.
www.19princeletstreet.org.uk | Phone: +44 (0) 207 247 5352
19 Princelet Street | London E1 6QH England
Horniman Museum
Question: Where else can you find all of the following? An anthropology museum that includes the UK's first permanent gallery devoted to African and Afro-Caribbean art and culture; a natural history museum with 250,000 stuffed specimens such as the impressive Canadian walrus; a Centenary Gallery that includes models, masks and even a torture chair; a museum of 7,000 musical instruments, including 3,500-year-old Egyptian clappers; a 16-acre landscaped garden with a grand, Grade II listed Victorian conservatory; and a £1.5m aquarium.
Answer: The Horniman, a striking Art Nouveau style museum built in 1901 to house the eclectic collection of tea merchant Frederick John Horniman. Set on four floors, it houses a most unusual array of natural and cultural artifacts, and regularly hosts workshops, festivals, concerts and activities. The gardens and conservatory alone are worth the day trip to south London (and they also are a popular venue for weddings and parties).
www.horniman.ac.uk | Phone: +44 (0) 20 8699 1872
100 London Road, Forest Hill | London SE23 3PQ England
The London Silver Vaults
Blink and you'll miss it. Hidden away under the city's legal district among office buildings and tailor shops, this is one of the capital's best kept secrets; ask most Londoners and they won't even know it exists. Okay, it's not a museum per se, it's a retail operation with the world's most extensive collection of antique silver, but it has an interesting history and is a must-see for lovers of antiques, even if only to browse. Dating back to the late 19th century, the underground vaults were once the safety deposit box for London's highly affluent. Large imposing doors protect some 40 dealerships that will buy, sell, exchange, repair, evaluate and generally give expert specialist insight into all things silver. Recognized organizations—such as the British Antique Dealers Association—will give you the assurance that you're buying quality. Peruse dinner services, jewelry, candelabras, ornaments, champagne swizzle sticks and full-size silver armchairs.
www.thesilvervaults.com | Phone: +44 (0) 20 7242 3844
Chancery House, 53-64 Chancery Lane | London WC2 England
Charles Dickens Museum
If you're traveling with kids, the £62m Dickens World in Chatham, Kent, is probably a more appropriate day out, but if you're looking for a more authentic Dickens experience, be sure to visit his only surviving residence, in Holborn. London's famous novelist and social commentator lived in this Georgian terrace house from 1837 until 1839 before moving to larger accommodations following his literary success. The four-floor home has the world's best collection of Dickens-related material, including posters, rare editions, letters, paintings and original furniture. You might want to get involved with one of the special events that take place at the museum, such as the Victorian Games evening (in November), the occasional reading session (book tickets in advance) or the weekly (usually Wednesdays) handling sessions at which you can actually write with the same quill Dickens once used—worth writing home about!
www.dickensmuseum.com | Phone: +44 (0)20 7405 2127
48 Doughty Street | London WC1N 2LX England
Churchill Museum and War Cabinet Rooms
If it's one of those typically British rainy days, head underground in the heart of Westminster where the nine historic War Cabinet Rooms will keep you completely enthralled. Restored and opened to the public for the first time in 2003, these are the same subterranean enclosures used by Prime Minister Winston Churchill and his war cabinet during their World War II campaign. Original furniture, maps, books, trans-Atlantic telephones, and authentically dressed mannequins are on display; realistic sound recordings help recreate political life during the 1940s. Although young children might not appreciate the War Rooms section, they will enjoy the connecting Churchill Museum as it's filled with multi-media exhibits. Charting the 90 living years of the man himself, it includes the impressive, fifty-foot-long Lifeline table, with digital interactive elements. There are also special events and temporary exhibitions going on throughout the year. Tip: the mornings are quieter, and the audio tour enhances your in-depth experience.
http://cwr.iwm.org.uk | Phone: +44 (0)20 7930 6961
Clive Steps, King Charles Street | London SW1A 2AQ England
The Garden Museum
Set on the Albert Embankment, across the Thames from the Houses of Parliament, the erstwhile St. Mary-at-Lambeth Church has been transformed into one of the UK's leading garden exhibitions. Formerly the Museum of Garden History, the new Garden Museum includes an education room, mezzanine gallery and a new temporary gallery. These all complement the existing 17th-century knot garden as well as the rear courtyard—where the tomb of the Charles I's plant collector and gardener John Tradescant can be found—plus many historic tools, artifacts and curiosities that highlight the British obsession with garden design.
www.museumgardenhistory.org | Phone: +44 (0) 20 7401 8865
Lambeth Palace Road | London SE1 7LB England
Geffrye Museum
Have you ever wondered how English domestic life has evolved over the last 400 years? The easiest way to find out is to stroll through the Geffrye Museum, a series of 18th-century, ivy-clad almshouses that have been recreated into a chronological trip through middle-class England period rooms, starting in a 17th-century space with Elizabethan oak furniture and paneling and including a 1930s flat, and a converted warehouse from the 1990s. This is the UK's only museum dedicated entirely to English furniture, paintings, textiles, and decoration. There's also an award-winning walled herb garden, a series of period gardens, a cafe, shop, and temporary exhibition space that changes displays throughout the year. Tip: be sure to go off-peak to avoid crowds, and the £1 audio guide is well worth the outlay.
www.geffrye-museum.org.uk | Phone: +44 (0) 207 739 9893
135 Kingsland Road | London E2 8EA England
Dennis Severs' House
Although this might initially seem like some sort of heritage museum, it's definitely not. This is historical art and is the closest thing to time travel you're ever likely to witness. American Dennis Severs lived here during the 1970s, and made it his personal mission to recreate a home for a fictitious Huguenot family. This eerie East End Georgian terrace has been developed into a kind of 18th/19th century soap opera (Severs himself called it "still life drama"). Use your imagination as you wander silently through the 10, small, dark, era-themed rooms, soaking up living history with all your available senses: the smells (dampness, fresh coffee, roaring fire); the sights (partially-eaten still-warm food, authentic furniture and clothing); and sounds (hidden speakers projecting street noises). Tip: Monday night visits by candlelight are best for the complete effect.
www.dennissevershouse.co.uk | Phone: +44 020 7247 4013
18 Folgate Street, Spitalfields | London E1 6BX England
Petrie Museum of Egyptian Archaeology
Part of University College London's Institute of Archaeology, this museum boasts some 80,000 Egyptian and Sudanese objects dating back as far as 5000 BC. Offering of vision of what life was like in the Nile Valley throughout the ages, the museum is filled with some of the earliest examples of Egyptian metals, costumes and calendars. It's also home to a variety of weapons, portraits, jewelry, tools, earthenware and items of everyday use. It can be deliberately dark sometimes, for effect, and guests are encouraged to carry a flashlight.
www.petrie.ucl.ac.uk | Phone: +44 (0) 207 679 2884
University College London, Malet Place | London WC1E 6BT England
Clockmakers' Museum
If you can, try to find the time (ha-ha) to visit the Clockmakers' Museum because it houses the oldest collection of clocks and watches in the world. Set in a singular yet comprehensively stocked room, the museum charts the rich history of London's clockmaking. The accumulative range boasts some 600 watches, 30 clocks and 15 marine timekeepers. Most pieces range in date from 1600 and 1850, but there's also a rolling exhibition of more contemporary works. The worthy timepieces of note include the first electric clock, Mary Queen of Scot's skull-shaped watch, as well as the timepiece Sir Edmund Hillary wore during his push to the summit of Everest in 1953. For those with a particularly keen interest in timekeeping, the Guildhall Library next door houses the Library of the Worshipful Company of Clockmakers, the museums patrons, where you'll find an extensive range of printed materials on British horology. Tip: the best time to visit is at noon when all the clocks chime simultaneously.
www.clockmakers.org | Phone: +44 (0) 20 7332 1868
Guildhall Library | London EC2V 7HH England
Suzanne Aaronson, Co-founder of Suzanne's Files, is our Travel Curator. Stay in-the-know on her latest finds and insider tips by signing up to receive Notes from Suzanne's Files, a free e-newsletter.