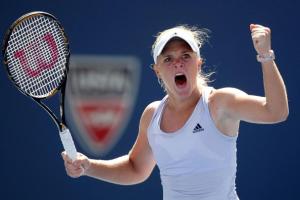 Well, CBS is sitting awfully pretty. Its coverage begins today and the network has what is far and away the best day of matches in the tournament so far. So much to watch:
Roger Federer v. Lleyton Hewitt; Ashe, 11 a.m.:
Now, this really shouldn't be much of a match, but you know, it's two Grand Slam winners going up against one another and it's the first real "test" on paper that Fed will have to face. Plus, more Anna.
Novak Djokovic v. Jesse Witten; Armstrong, 11 a.m.:
As Novak tries to rebuild his image here in the City, he'll have to go up against a formidable opponent: The Witten Wall.
Melanie Oudin v. Maria Sharapova; Ashe, Early Afternoon:
It'll be like the 90s! An American 17-year-old underdog (and now, an instant star) versus a player who has been here before and has won before. Sharapova said two nights ago that Oudin had clear weaknesses in her game that Elena Dementieva didn't exploit. We'll see, Maria! And remember, the last time Sharapova played in an Open, she lost in the third round on a Saturday afternoon to a 16-year-old.
Fernando Verdasco v. Tommy Haas; Armstrong, Early Afternoon:
Of all our featured matches this one might be the most evenly fought. Also, watch for Sara Foster, our favorite superfan.
Robin Soderling v. Sam Querrey; Grandstand, Mid-Afternoon:
Querrey is probably the favorite going into this, but it would be a big step for his career to knock off the French Open finalist.
John Isner v. Andy Roddick; Ashe, Late Afternoon:
The battle of the Americans. Roddick is the great American hope for this tournament, but the crowd will give Isner a big push. Isner said the other night that his fitness level isn't as good as Roddick's, so he'll have to take a gamble or two. Use the height!
Shahar Peer v. Svetlana Kuznetsova; Grandstand, Early Evening:
The Israeli Peer always has strong crowd support here in New York, and this has all the indications of a trap game for Kuznetsova.