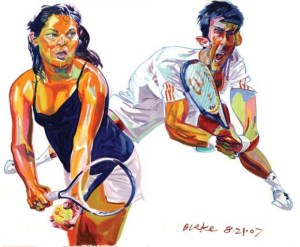 Was it just two years ago that we did a cover story on the Serbian tennis players who we predicted would take the city by storm?
Because they haven't.
Last year, we watched Novak Djokovic transform himself from a New York hero into a villain after he gave a cringe-inducing post-match speech at Arthur Ashe (where Richard Johnson booed him). When his Open run ended in the semifinals last year, he explained to the press that he wanted to forget the tournament as soon as possible.
After he won the 2008 Australian Open, we were expecting Novak to elevate himself into the top tier of players. That hasn't happened yet, and neither has a convincing run for a title since his triumph in Melbourne.
Meanwhile, Ana Ivanovic has had a spectacular fall from the top. After being ranked no. 1 in the world, she has dropped to no. 11 and has done no better than the fourth round of a Slam this year, and lost in the third round at the Australian Open. She won the French last year, but nothing since, and has become, quite simply, a middling women's player.
Jelena Jankovic, who played a competitive match with Serena Williams in last year's final, also has slowed down. After being ranked no. 1 going into last year's Open, she has fallen to fifth in the world and, like Ivanovic, has done no better showing than the fourth round in a Grand Slam this year.
All three will debut today, and to little fanfare: Novak Djokovic will play Ivan Ljubicic at Arthur Ashe today, and Jelena Jankovic will take on Roberta Vinci and Ana Ivanovic will play Kateryna Bondarenko. Both of those matches are at Armstrong.
Update: In the original version of this story, we stupidly forgot Ana Ivanovic's triumph at the 2008 French Open. Thank you to the commenter who alerted us.