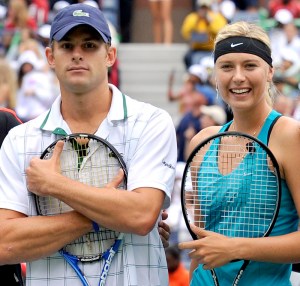 Maria Sharapova vs. Christina McHale and Andy Roddick vs. Marc Gicquel, night session, Ashe
It's Night of the Pretty People at the Open! It may be short, but it sure will be pretty.
Sam Querrey vs. Kevin Kim, early afternoon, Armstrong
Querrey's first match was against a fellow American, and his second is, too. A victory here would set up a potentially great match between Querrey and Robin Soderling (who's also playing today) in the third round.
The Bryan Brothers vs. Acasuso/Vassallo Arguello, midafternoon, Grandstand (may be moved to Ashe!)
The most profiled twins in tennis might get the big stage, if Dementieva, Jankovic and James Blake are cooperative.
Nikolay Davydenko vs. Jan Hernych, midafternoon, Court 7
This is the outer-court match we're most looking forward to. And Court 7 has the nicest views, we think.