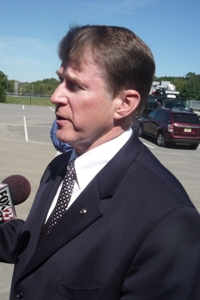 TROY—To get into the building where Barack Obama delivered a speech about job training, attendees had to walk past a baseball stadium named for Joe Bruno, the former State Senate majority leader, who was indicted by federal prosecutors several months after he resigned his position. But he wasn't here, and some of his old colleagues are disappointed.
"I have mixed feelings," said Senator Neil Breslin, an Albany Democrat, who believes Bruno should have been invited. "Joe Bruno has a lot to do with this day. He's done so much to enhance Hudson Valley and also to the nanotechnology and AMD, that this is an important part of the whole nanotechnology process in the capital region."
"Joe did a lot for this college, this campus, this community, the entire Capital District and all of upstate New York," said Mike McNulty, a retired Democratic congressman whose district includes Troy. "I don't know what it was as far as the perspective of the other people involved, but in my estimation Joe should have been here and deserved to be here."
"I think it goes without saying that Joe Bruno was one of the most influential people in the Capital Region in the last 25 years, and certainly to Hudson Valley Community College where you had the technology center, the library, the administrative building and certainly one of the baseball stadiums," said Senator Roy McDonald, a Saratoga Republican who succeeded Bruno. "Now I'm not in charge of who invited people, if I were here I would have invited Joe. You've got to remember: I know him as a friend. I think right now the public is looking for non-partisan promotion of our area. It's so important."