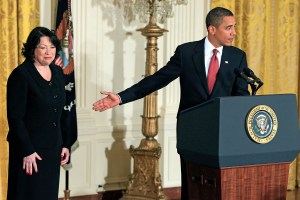 The first interview with Sonia Sotomayor since her confirmation is up on CSPAN, and–with the interviewer prodding her to describe how she received news of her nomination, "for history"–Sotomayor says, basically, that she sat around her office in New York all day, waiting for the White House to call and then they never did.
So at 7 P.M.., she called them and asked what was going on, since all her family was en route to Washington at the White House's request.
"Well, you're getting my family to Washington, have any of you given any thought about how I'm going to get there?" she asked.
"Oh, I guess we should figure that out, shouldn't we?" was apparently the reply. (Other things it might have been good for the White House to figure out in advance: health care; David Paterson.) Then they told her they didn't want her to take a plane, so she had to call a friend to drive her.
An hour later, she finally got a call from the White House operator:
"I actually stood by my balcony doors, and I had the–my cellphone in my right hand and I had my left hand over my chest trying to calm my beating heart, literally," Sotomayor recounted. "And the president got on the phone and said to me, 'Judge, I would like to announce you as my selection to be the next Associate Justice of the United States Supreme Court.'

"And I said to him — I caught my breath and started to cry and said, 'Thank you, Mr. President.' That was what the moment was like."
Later, while she was riding down there, the GPS stopped working because of a downpour and they ended up in Virginia, and had to call someone for directions. All of which begs the question: why couldn't she take a plane? Security? Or because people would have seen her flying to New York and the cat would have been out of the bag a few hours early?
In other Court news, Justice Ruth Bader Ginsburg is out of the hospital after a scare last night.