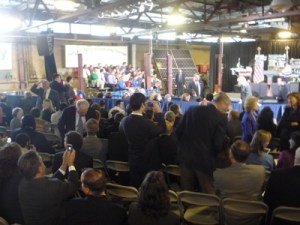 TROY—People have filled a bare-bones building on the campus of Hudson Valley Community College here, including an agglomeration of elected officials that I haven't seen since the coronation of Kirsten Gillibrand.
From Albany, I see State Senator Neil Breslin, County Executive Mike Breslin (his brother), Assemblyman Jack McEneny, Councilman (and mayoral candidate, and Obama delegate) Corey Ellis and Colonie Town Supervisor Paula Mahan. All are Democrats. Schenectady Mayor Brian Stratton is here (his father is a former congressman) along with Sue Savage, chairwoman of the Schenectady County Legislature.
In addition to Senator Breslin, State Senators John Sampson, Toby Ann Stavisky and Roy McDonald are in the room. This is McDonald's district–he's a Republican–but Breslin is right next door. Stavisky, the chairwoman of the chamber's Higher Education Committee, told me she drove up from Queens.
I saw Nancy Zimpher, the SUNY chancellor, chatting with Shirley Ann Jackson, the president of Rensselaer Polytechnic Institute. Hector Ruiz, the CEO of Global Foundries spoke to T.V. cameras; his company is building a massive chip plant to the north, and programs like the one the president is expected to tout will provide trained workers for the facility.
Tom Wade, the Rensselaer County Democratic Chairman, is basically holding court in the middle of the audience. The mayor of Troy, Harry Tutunjian, is in here somewhere but I can't see him. Dennis Whalen, now a lobbyist for HANYS and Mike McNulty, a former Congressman who is also a lobbyist, are chatting with officials nad guests. In the back corner, Jennifer Hogan was corralling her three children. They're waiting for their father, Representative Scott Murphy, to greet the president at the Albany International Airport. Muphy, as well as Representative Paul Tonko and Paterson, will be in the coterie that escorts Obama the dozen or so miles from the airport to this campus, which is on a hill just up the Hudson shores near Troy's southern border.
The president should arrive by 11:30.