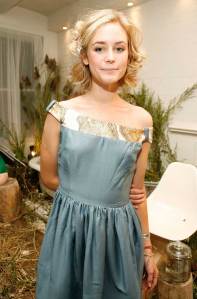 "It's really amazing that I am this relaxed," said the fashion designer Abigail Lorick, sucking down a monstrous iced coffee on the sixth floor of a nondescript building on Pearl Street the other morning. "I should be freaking out by now." She bent down to pet her adopted Brussel Griffon, Bill (a girl), who was pawing at her ankles.
It was exactly a week before Ms. Lorick's spring '10 presentation, which will take place Thursday, Sept. 10, at the Soho Grand, and two interns were sitting in a trancelike state at desktop computers at her studio, which is also her home (she sleeps in a lofted space up a flight of stairs), relaying one exciting development after the next.
Gilt Group, the luxury online retailer, had just placed an order of 1,200 Lorick pieces that they wanted delivered in one month! There would be a trip to Home Depot on Saturday to get wood for the show's set, and a meeting with the set designer on Sunday. A hair concept for the models had just been finalized. On the kitchen counter were deliciously colored vials of nail polish (nude, pink, electric blue). "I think this may be too sparkly for us," said Ms. Lorick of the metallic orange, painting it onto her ring finger. And then, looking at sketches for the presentation emailed from an artist: "Hot shit!" She looked up from the screen and giggled self-consciously, like a child surprised by her own vocabulary. "I heard someone say that and now I love saying it: Hot shit!"
'It's about bringing elegance back to our generation of women.'—Abigail Lorick
Ms. Lorick, a very pretty former Ford model with big blue eyes, blond hair in ringlets and lips that she paints a shade just a few degrees softer than red, was wearing a floral blue skirt, just above the knee, a neat blue Oxford-cloth shirt and red flats—all of which made her seem both younger and older than her age, 27. It was the kind of look borrowed by her friend, Gossip Girl costumer designer Eric Daman, when he created the personal style of the show's heroine, Blair Waldorf, played by Leighton Meester. That was in the fall of 2007, when Ms. Lorick was designing her first collection. Later, when Mr. Daman learned that the character of Blair's mother was going to be a designer, he pitched Lorick as the ghost line. Producers bought her entire first collection before it ever reached stores.
"Be a lady on the street and a whore in the bedroom!" said Ms. Lorick, quoting a friend of hers describing the style. "Wait, no, don't write that!"
BUT THAT IS exactly the look the show promotes: an outwardly sweet and studious but secretly mischievous private-school gal that travels easily between uptown and downtown. The aesthetic, with its excess of hair ribbons and classic silhouettes, is now regularly featured in magazine fashion spreads (Harper's Bazaar's big September issue even had Ms. Meester on its cover). In a time of fashion chaos and oversaturation, it appears consumers are looking at TV shows (Mad Men, too) for dressing guidance and fantasy in a way they haven't since the days of Dynasty.
"Gossip Girl showed women that it's good to have style and it's fun—go get dressed up!" said Ms. Lorick. "It's been such a challenge for us to educate people. In America, girls don't get that. They want to show leg and skin to be sexy." (The designer always says "we" and "us," though her company is made up of one person: Abigail Lorick, plus the interns.)
Ms. Lorick grew up in Amelia Island, Fla. She began modeling at 15, and after graduating from Bolles High School in Jacksonville, she departed for Paris and Milan. At 23, she enrolled at the Fashion Institute of Technology and got an internship at T. S. Dixon, the embroidered caftan maker that Ms. Lorick described as the "modern Lilly Pulitzer." After a few months, Ms. Lorick was given the task of designing whole collections for the label, and after one semester, she dropped out of school. Two years later, her production manager in India suggested that Ms. Lorick start her own collection.