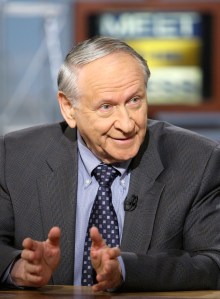 Fitting, perhaps, that on Sunday William Safire followed his fellow conservative commentator and native New Yorker Irving Kristol into death.
Mr. Safire was not the father of a movement like Mr. Kristol, but he was often the clever public voice, a reporter-turned-speechwriter with an eye toward playing the press. It was Mr. Safire, after all, who staged the Kitchen Debate between Nixon and Khrushchev, and Mr. Safire who captured it in a widely distributed photograph. He wrote the lines that made Spiro Agnew sound clever: "nattering nabobs of negativism" and "hopeless, hysterical hypochondriacs of history." As a columnist, he always seemed to enjoy himself in print, whether he was forcing the resignation of President Carter's budget director, or inviting a physical threat from President Clinton (after Mr. Safire wrote that Ms. Clinton was a "congenital liar").
Maybe it's because Mr. Safire was a Times man for so long–he had penned the On Language column for the magazine ever since Jimmy Carter was president–or maybe because he-would-have-wanted-it-this-way, the paper had some fun with Mr. Safire's obituary.
There were columns on blogosphere blargon, tarnation-heck euphemisms, dastardly subjunctives and even Barack and Michelle Obama's fist bumps. And there were Safire "rules for writers": Remember to never split an infinitive. Take the bull by the hand and avoid mixing metaphors. Proofread carefully to see if you words out. Avoid clichés like the plague. And don't overuse exclamation marks!!
It wouldn't have been completely surprising if Mr. Safire had shared the by-ine. After all, he was committed to working until his last moments even as he fought pancreatic cancer. Yesterday's On Language column said he would be "on hiatus for a few weeks," and his last op-ed in 2005 ended thus:
"When you're through changing, learning, working to stay involved – only then are you through. 'Never retire.'"