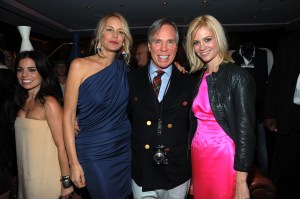 On Thursday, Sept. 17, designer Tommy Hilfiger celebrated the grand opening of his global flagship store on Fifth Avenue with a luxurious soirée preceding his runway show at Bryant Park.
Mr. Hilfiger attended the party in a navy blazer over a striped dress shirt and tie, white pants, and brown loafers; no socks. Six male models stood in formation outside the entrance in matching blazers, stoically gazing across Fifth Avenue.
On the designer's arm was wife Dee Ocleppo in a blue one-shoulder draped mini-dress with tan suede peep-toe pumps. Hilfiger's daughter Ally wore a flesh-toned strapless dress, teal booties and an armful of silver bangles.
Gathered in a living-room-like setting within the store (Persian rug included), the Hilfiger clan welcomed guests, accepting their congratulations and posing for photos. Mr. Hilfiger snapped a few shots of his own on his personal digital camera as DJ Cassidy kept it old-school with songs like "Uptown Girl."
Actress Mena Suvari may have been the only one to check the weather before heading out to the party. Covered up in a black trench that she kept on even once inside the store, the actress was well-suited to handle the brisk fall weather that left many other red-carpeteers shivering. It seemed as though the rest of the ladies interpreted the motif of Tommy's new line ("California free and easy") a bit too literally.
Midway through the event, Vogue editor Anna Wintour arrived at the store, wearing a chocolate-metallic suit and beige sandals. She made a swift tour, accidentally brushing the Observer's cheap Forever 21 bag; we felt too chastened to speak.
Actress Naomi Watts stood out in a long sleeved, cream-colored backless sheath. Mad Men star January Jones was eye-catching in a hot pink sheath designed by the man of the hour, "of course," she said. As soon as her red-carpet obligations were complete, Ms. Jones smartly covered up with the black Madewell leather jacket she arrived in.
"I'm going to go on vacation for most of October, so I'm really excited," she told The Observer, conceding that Fashion Week wasn't all to blame. "I just finished shooting my show, so it's time for a break."
Dark wood paneling and bookcases on the main floor shelved neatly folded shirts organized by color among brightly hued books. Adding to the Ivy League ambiance were busts of American presidents of yore, also painted in primary colors and clustered among like-colored books and clothes. Nestled beneath the staircase was a shiny red motorcycle.
"I'm wearing Ralph Lauren. No, no, I'm kidding," said actor Penn Badgely. This was his first event at Fashion Week, on its last day. "I'm wearing Tommy Hilfiger."