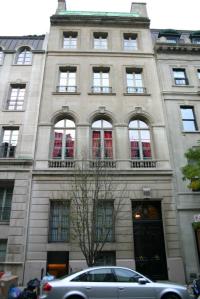 When the 29-foot-wide mansion at 11 East 64th Street was sold off last July for $42.5 million, it was one of the biggest and strangest sales of 2008. And it's getting odder: According to two sources, the buyer is quietly willing to part with the house for only $37 million.
The mansion's broker, both sources said, is Corcoran's Carrie Chiang. "I don't know. I don't know anything about it. I don't know anything about it," she said. "I don't know anything about it, O.K.?" She wouldn't confirm or deny the $37 million asking price, which, even if it was met in full, would mean a $5.5 million loss. "Whatever you want," said Ms. Chiang, one of the top-grossing real estate agents in the country. "I don't know anything about it. I don't know anything about it. I don't know anything about it. O.K.? Bye." She hung up.
Until last summer, the house belonged to the estate of renowned art dealer Daniel Wildenstein. For years, he shared it with his two sons and their families, including daughter-in-law Jocelyn Wildenstein, the Cubism-faced socialite. (She once found a 19-year-old there with her toweled husband, who reacted by pulling out a pistol.)
The townhouse hadn't been on the market when it sold last year, which made the sale a big surprise. As The Observer reported then, the $42.5 million deed was signed by Tricia Novak Canzeri, whose late husband, Joseph Canzeri, had been Ronald Reagan's and Nelson Rockefeller's advance man.
Her address was listed on the deed as care of Christopher Ely, Brooke Astor's butler. The tied-up Astor family was almost certainly not involved with the deal, but it wasn't clear if Ms. Novak Canzeri, who, according to court records, has worked for clients like Saudi princes, was representing someone. The house could simply be hers: Her 1984 honeymoon, after all, reportedly included Athens, Cairo, Israel, Turkey, Switzerland, Amsterdam, Frankfort, Delhi, Kashmir, Nepal, Bombay, Bangkok, Taipei, Hawaii and Los Angeles. And according to a 2,626-word Washington Post profile of her Georgetown house, she yearned for "the bright lights and action of Manhattan."
Just after last summer's sale, brokers said that $42.5 million was a relative bargain, at least compared to the $50 million that oil magnate Len Blavatnik had paid for the house's next-door neighbor. But the deal turned out to be one of the last before the economic collapse, and the New York City mansion market, like everything else, has suffered.
The Harkness Mansion, the most expensive townhouse ever sold in New York, reportedly became quietly available earlier this year for $49.95 million, $3.05 million less than it had cost. Somehow, losing money on big-ticket real estate has become ordinary.
"This," the boutique broker Barbara Fox said this summer, "is real life now."
mabelson@observer.com