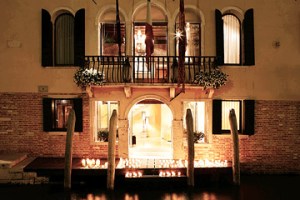 For a seductive retreat in this most romantic of cities, check into Ca Maria Adele, an intimate hotel in a four-floor, 16th-century palazzo. Just next to the impressive Basilica di Santa Maria della Salute, it sits right on a canal and can be accessed from both the street and the water, so why not start your Venetian getaway with a gondola ride to the entrance?
The opulent, almost bordello-chic decor includes a few Asian touches (Buddha heads; tatami mats), an eclecticism meant to evoke the city's fascinating history and culture, from exotic silk and spice trading to lavish masked balls. Don't even think about bringing the kids here—it's clearly a couples hideaway. There are 12 rooms: 5 deluxe, 5 themed, and 2 larger suites, all with free WiFi. Deluxe rooms have dark African woods and damask wallpapers mixed with more modern pieces and tatami mats, but the most interesting places to stay are definitely the 5 "themed" rooms. The delicate Fireside room, with its pastel color scheme and 19th-century fireplace, is just the place for a cozy rendezvous, while the dark and sexy Sala Noir is more decadent—swathes of richly colored fabrics and a black chandelier are counterbalanced by white linens. When it's time to venture out, you'll be in the heart of Venice, just five minutes from St. Mark's Square, so there's no shortage of things to do or places to eat, which is good as the hotel has no spa or dining room; it does have a chic breakfast room with a piano, sleek square tables, leather cube chairs and a Murano chandelier decked out in Swarovski crystals and Marabou feathers. In the evening you can enjoy drinks on the Moroccan-style terrace as the sun sets over La Serenissima.
Room rates from €300.
Insider tip from Mr & Mrs Smith, one of my trusted resources:
"Packing tips: Comfortable shoes; mosquito repellent in summer."
Get more tips, see photos, and book the guaranteed best rate on Mr & Mrs Smith:
www.mrandmrssmith.com/ca-maria-adele
Dorsoduro 111 | Venice 30123 Italy
Suzanne Aaronson, Co-founder of Suzanne's Files, is our Travel Curator. Stay in-the-know on her latest finds and insider tips by signing up to receive Notes from Suzanne's Files, a free e-newsletter.