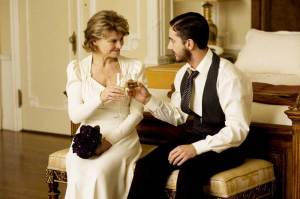 New York, I Love You
Running time 110 minutes
Written by Emmanuel Benbihy (concept) and Tristan Carné (premise), and various others
Directed by Fatih Akin, Yvan Attal, Allen Hughes, Shunji Iwai, Wen Jiang, Shekhar Kapur, Joshua Marston, Mira Nair, Natalie Portman, Brett Ratner, Randall Balsmeyer
Starring Shia LeBeouf, Bradley Cooper, Blake Lively, Julie Christie, Robin Wright Penn, Orlando Bloom, John Hurt, Ethan Hawke, Christina Ricci, Chris Cooper, Irrfan Khan
With the movie scene currently dominated by so much dismal trash like Couples Retreat, Zombieland and Cloudy With a Chance of Meatballs, it would be a treat to welcome an artistically viable valentine to the most dynamic city in the world with a huge star-studded cast. New York, I Love You is not it.
An eclectic group of 11 directors with varying degrees of talent play global leapfrog, skipping and jumping from Chinatown to Central Park to Greenwich Village to Coney Island to helm 11 overlapping stories about the Big Apple; it was completed in eight weeks. (A 12th, Scarlett Johansson, has been eliminated, for reasons never explained. Maybe her little vignette was too boring and empty to include, but it couldn't be less satisfying or more inconsequential than some of the others included here.) This is the second in a continuing series of movies dedicated to the unifying theme of love in big cities from producer Emmanuel Benbihy (Paris, je t'aime). Next up at bat: Rio, Shanghai and Jerusalem, in what you might seriously call a true definition of vay izmir. The New York rule: Each director had a deadline of two days to complete his segment. The result is every bit as truncated and zigzaggy as you might imagine. The whole thing looks like it was edited with pinking shears.
Horrible, streaky, dizzying camera work leads you across the bridge into the city by taxi while two passengers argue about how to get to Brooklyn. The driver throws them out of his cab. In Chinatown, actor-director Wen Jiang, who co-starred with Gong Li in Red Sorghum and is often called "the Robert De Niro of China," tells the tale of a scruffy slacker pickpocket (Hayden Christensen) who follows a girl into a cafe, returns her stolen cell phone and gets into an argument with her boyfriend (Andy Garcia), whose wallet he has previously pilfered. Next, India's Mira Nair enters the diamond district to film an encounter between a Hasidic bride-to-be (Natalie Portman) and a Hindu diamond merchant (Irrfan Khan), whose cultural differences find a shared common ground as they talk about everything from food restrictions to her shaved head. On the Upper West Side, a British musician (Orlando Bloom) works intensely to finish a score for an animated film, staying in touch with the outside world through cell phone calls from the director's assistant (Christina Ricci), who insists he read two novels by Dostoyevsky in order to understand the project. He's confused by this strange request, but when she shows up at his dark, grungy apartment to help him with his creative task, he learns a whole new meaning of Russian literature. Directed by Japan's Shunji Iwai, who knows how to make two minutes feel like War and Peace.
The whole thing looks like it was edited with pinking shears.
The best story in the film comes from Yvan Attal, the Israeli-born French director and husband of gruesome-looking actress Charlotte Gainsbourg. It focuses on a fast-talking Soho pickup artist (Ethan Hawke) who puts the make on a sexy married woman (Maggie Q), without knowing she's a professional hooker. Mr. Hawke's seduction techniques are both charming and hilarious, giving the lie to the theory that Manhattan hustlers, from Times Square to the meatpacking district, have all the answers before you can even ask the questions. Moving uptown to Central Park, on the day of his senior prom, a heartbroken, lovesick 17-year-old kid (Anton Yelchin) goes to a pharmacist (James Caan) to buy condoms. The old man proposes the boy do a good deed for humanity by taking his crippled daughter (Olivia Thirlby) to the prom in her wheelchair. The dour mood shifts like a lightning strike after the dance, when they are forced to walk home through the park. The kid gets the romantic surprise of his life when the pitiful girl unexpectedly trains him in the nuances of handicapped sex. Little does he know she's an actress, preparing for a role. In the most pretentious and incomprehensible vignette of all, written by Anthony Minghella, interrupted by his death and finished by Bollywood success Shekhar Kapur (Elizabeth), the great Julie Christie plays a retired opera singer who checks into a posh hotel on the Upper East Side and shares a glass of Champagne with a crippled bellhop who brings her violets (Shia LaBeouf). He throws himself out of the window to his death, but when she reports it to the hotel manager (John Hurt), the body has disappeared. Before the weirdness ends, the suggestion is apparent that everything has either happened in the woman's past or been a figment of her imagination. Pure twaddle.
There's more, in a seemingly inexhaustible stream of pointless brushes with destiny. Two distraught lovers (Drea De Matteo and Bradley Cooper) speed toward one another across Manhattan, one by subway, the other on foot, as they try to figure out if their one-night stand might produce the same sparks the second time around. Cult director Allen Hughes and writer Xan Cassavetes, daughter of John Cassavetes and Gena Rowlands, collaborated on this one, which pants with energy and pace, if not content. Actress Natalie Portman returns, in the role of debut director, to frame the story of a black baby sitter who raises eyebrows as he escorts his charge, a pink and pretty all-American little girl, through Central Park on a sunny afternoon. Two housewives praise him for being a great male nanny, but when he returns the moppet to her mother at the end of the day, he turns out to be a ballet dancer—and the child's real father.
And so it goes, with characters from one episode sometimes rubbing elbows with participants from another. The hooker who left Ethan Hawke on the curb in Soho drops off her lingerie in a Chinese laundry and is shocked when the next customer (Chris Cooper) speaks perfect Cantonese. On the boardwalk at Brighton Beach, Abe (Eli Wallach), an old man recovering from a broken hip, is doomed to endure the nagging of his annoying, mean-spirited wife of 63 years, Mitzie (Cloris Leachman). She's the worst, but she's all he's got. The movie bounces back and forth between these characters like a game of table tennis. The vignettes are like a collection of New Yorker short stories, too often with little or no literary or cinematic trajectory, and almost always too fragmented to add up to anything substantial. There isn't one that I would call involving enough to engage the emotions. The goal is to paint a colorful canvas of a sprawling metropolis with an ever-changing scenario thanks to a constantly fluctuating population. Unfortunately, it's a portrait of "the city that never sleeps" that often needs a NoDoz. The very nature of New York's vastness as a melting pot of contrasts makes it a natural for a movie like this, but it's the movie's downfall, too. So many stories to choose from, but hard to connect the dots.
The only thing New York, I Love You really proves is how difficult it is, in today's culturally bankrupt film industry, for good actors to find jobs.