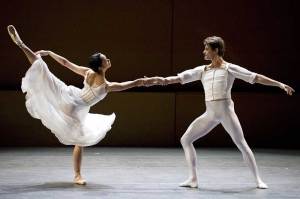 Because City Center was supposed to be undergoing major revamping (it didn't happen), ABT switched its fall season to an unlikely venue: Avery Fisher Hall. It has no front curtain, no wings, no rake and no way to hang scenery, and the balcony is a zillion miles from the stage.
The season was also reduced to six performances, no doubt a financial advantage to the company—not only no scenery to commission and build, but fewer ballets to rehearse. On the other hand, three new works were commissioned and premiered, of which one was remarkable and the other two bearable—a healthy batting average when it comes to new ballets.
The one that will last is—no surprise—Alexei Ratmansky's Seven Sonatas. Again we see how fortunate ABT is to have secured him as Artist in Residence, and how fortunate we all are to have him in America. Seven Sonatas isn't a wham-banger: It has no narrative, and doesn't demand much virtuoso stuff. It's a quintessential company piece, deploying six dancers in more or less equal roles, and showing them off to their great advantage. I saw it three times and liked it more each time; its subtleties reveal themselves slowly but indelibly.
For once not using Russian music, Ratmansky has chosen seven ravishing Scarlatti sonatas, played on a piano rather than a harpsichord, and so adding a slight romantic tinge to the occasion. The ballet appears to be a simple matter, most of it made up of a series of duets and solos, so that when well into the piece suddenly there's a threesome, it comes as a shock. Then another threesome, and finally all six dancers—three couples—joining in a somber, grieving close. The structure is so clean, so scrupulous, that you're startled at how many quiet surprises it contains. But then that's like Scarlatti's music. How does he deepen his strict formula with such diversity of invention and feeling?
Ratmansky employs surprising shifts of the head and sudden arrow-like thrusts of the arm to punctuate his vocabulary while requiring his dancers to keep their footwork brisk and precise. Meanwhile, the changing moods of the music lead him to alternate happy and dark encounters between his couples. There are hesitations, confrontations—whatever is happening is implied rather than stated. But that something is happening is never in doubt. Seven Sonatas, with its flowing series of meetings between men and women in an identifiable emotional world, is in the mould of Jerome Robbins' glorious Dances at a Gathering.
Scarlatti has frequently been used to good effect by choreographers before, from Massine's charming The Good-Humoured Ladies to Peter Martins' early exercise in classicism, Sonate di Scarlatti. He is a very welcome alternative to his two exact contemporaries, Handel and Bach. (Note to Peter: Forget about that LP I loaned you back in 1979 of Clara Haskil's wonderful performance of a group of the sonatas. I replaced it years ago with a CD.)
The first cast of Seven Sonatas included several company stars—David Hallberg, Herman Cornejo, Julie Kent—as well as the very welcome return of Stella Abrera, looking and dancing like a true ballerina. (Also on hand was the inevitable Xiomara Reyes—inevitable because she's the only company principal short enough to dance with Cornejo. And with her comes her inevitable smirk: She can't suppress it even in the more serious passages.)
What Ratmansky has done for these artists reveals once more his unerring understanding of individual performers. But in a way, his second cast, made up of six of the ABT's most talented second-tier dancers, showed off the ballet even more persuasively: They gave it a greater sense of homogeneity and unity. Jared Matthews, Carlos Lopez and Yuriko Kajiya were all stronger than I've ever seen them. Joseph Phillips, still in the corps, is a changed dancer from the rather stolid young man who joined the company only a little more than a year ago.
THE SEASON'S TWO other new ballets were by relatively established dance-makers, Aszure Barton and Benjamin Millepied. Like all her work that I've seen, Barton's One of Three, to Ravel's Violin Sonata in G, is efficient and empty. A long solo by Gillian Murphy dressed in a clinging long white dress does nothing for the first scene of the ballet, for Murphy or for us. (Second-cast Michele Wiles seemed more at ease dressed like a long drink of milk.) As it happens, I also saw this piece three times, and each time it had less to say, rather than more.
Millepied's Everything Doesn't Happen at Once is large-scale and propulsive, to a score by David Lang. It's one of Millepied's better pieces, maybe even his best—well organized, competently executed, with some exciting virtuoso moves for the company's young hotshot Daniil Simkin and effective passages, mostly lifts, for Maria Riccetto and Kristi Boone. But the piece sinks itself with its central movement, an overextended and dull duet for Isabella Boylston and the heroically supportive Marcelo Gomes. She's a pleasing dancer, but she's not up to carrying a ballet—as Millepied should have realized after featuring her two years ago in From Here on Out. Clearly, he sees something in her that eludes me.
Each of the season's six performances threw in an extra attraction. Robbins' Other Dances was given several times by those superb dancers Gillian Murphy and David Hallberg. They're new to it, and though they look beautiful, it doesn't really suit them. Remember: Robbins created this coda to Dances at a Gathering for Baryshnikov and Makarova, and it took full advantage of their Slavic playfulness and charm. Neither Hallberg nor Murphy is naturally playful, and they miss many of the nuances; like Martins and Farrell before them, they're physically imposing and handsome, but they're more deliberate than lively.
Another extra was the beauteous Veronika Part as The Dying Swan. Talk about deliberate! I've seen serpentine swans, boneless swans, pathetic swans, scary swans, even moulting swans (the Trocks), but I've never seen a swan this bland. Far from seeming close to death, she didn't even look sick—just tired, sinking to the ground for a little doze after a long hard day of flapping her arms.