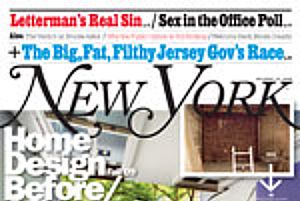 In light of the sudden death of Bruce Wasserstein, what is going to happen to New York Magazine?
The magazine is owned by a family trust, not by Lazard or any of Mr. Wasserstein's other holding companies. Mr. Wasserstein's children, according to reports, include Ben, Pam, Scoop, Jack and Dash.
Could one of them potentially assume the job of owning New York?
If so, two of Mr. Wasserstein's children seem the most likely picks: Ben Wasserstein, a 2003 Harvard grad, was once an editor at New York before he left to go to the New Republic, which he later left for a position at HBO. Pam Wasserstein, a 2000 Harvard grad, is a lawyer and, like her brother Ben, has hung out with staffers from the magazine in the past. She used to write for the Harvard Crimson, and Ben used to edit the Crimson's weekly magazine, Fifteen Minutes.
Reached for comment, New York provided this statement from New York Media editor-in-chief Adam Moss and publisher Larry Burstein: "We're shocked and saddened by the loss of Bruce Wasserstein. We extend our deepest sympathy to his family and friends and share in their grief."